Bronx Off-Site Document Shredding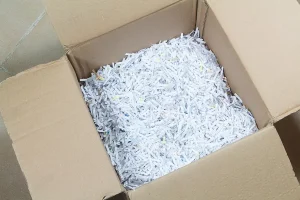 If you have years of documents stacked up and needing shredding, offsite shredding services from Shred Nations Bronx just may be the most practical and cost-efficient document shredding option available.
Whether you're in the Bronx, Queens, Manhattan, or across the way in Newark, our offsite shredding services can send a truck directly to your home or business to collect your documents in locked shredding bins before transporting them to be shredded at a secure offsite facility.
Approximate Cost of Off-Site Shredding in the Bronx
Offsite shredding is a very cost-effective option for individuals or businesses that have over 90 lbs of documents to be shredded but do not need to physically witness the shredding.
On average, off-site shredding costs between $130-$150 for a project up to 120 lbs. However, pricing varies based on location, project size, and more.
How Off-Site Document Shredding Works
Offsite shredding provides a cost-efficient paper shredding option for large projects while still offering the same convenience and security. The following breaks down the basic steps to the offsite shredding process:
To begin, either fill out the form to request a free offsite shredding estimate or give us a call at (718) 303-0768. Within minutes, offsite shredding providers in the Bronx and NYC area will be in touch to offer you competitive quotes on your project.

After finding the shredding company that best suits your needs, they will provide your business with locking shred bins to store your documents in.

Once your bins are full, schedule a time with your provider for them to be picked up and transported to a secure offsite shredding facility.
When the documents arrive at the shredding facility, they are securely destroyed and finally recycled. Once the project is complete, you'll be sent a certificate of destruction by the shredding company as a guaranteed chain of custody remained secure and all shredding was compliant with current regulations.
Contact Us to Get Started
Searching for the perfect balance between cost-efficiency and convenience? With safe and reliable offsite shredding services covering the Bronx, the surrounding NYC boroughs, and the greater New York area, consider offsite shredding from Shred Nations Bronx be the solution you've been looking for.
To learn more about any of our service options or receive a free quote on an offsite shredding project today, simply fill out the form, or just give us a call at (718) 303-0768.
Within minutes of processing your request, you'll be contacted with a list of free quotes from the top offsite shredding specialists in the Bronx.
Shred Nations Bronx Location
Shred Nations Bronx
557 Grand Concourse # 3
Bronx, NY 10451
(718) 303-0768 
Email: bronx@shrednations.com
Our normal operating hours are Monday–Friday from 9:00 AM to 6:00 PM and Saturday from 9:00 AM to 2:00 PM.
Shred Nations also proudly offers our shredding services to the following cities and boroughs throughout the Bronx and greater New York areas:
Albany | Brooklyn | Dutchess | Jersey City | Manhattan | Mt Vernon | Nanuet | New York City | New Milford | North Babylon | Queens | Syracuse | Union City | West Harrison | West Point | Westchester | Westwood | White Plains | Yonkers