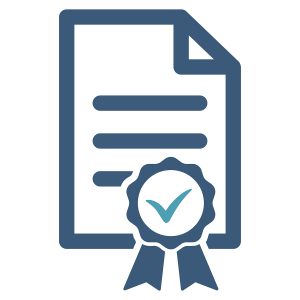 A certificate of destruction is a formal document containing detailed information about the destruction of your papers that ensures the shredding process complied with all relevant security laws. These certificates help protect your company in case of legal action or an audit.
When you hire a mobile shredding or off site shredding company, it's important to know if they detail every step of the shredding process and can document it for you. Ensure protection for yourself by hiring a shredding provider that offers a detailed certificate of destruction.
What a Certificate of Destruction Contains
---
A thorough certificate of destruction will contain these items:
A unique, serialized transaction number that you can use in an audit trail

Transfer of custody that establishes the client's turning over of materials for destruction at a specific location and date

A reference to the terms and conditions, or the policies and procedures of the client and company for the processing of materials

Acceptance of fiduciary responsibility whereby the company's agent accepts responsibility and agrees that all materials accepted are considered confidential and are to be treated as such (can refer to the terms and conditions of a service agreement)
The collection date of the information and the date the information ceased to exist

The location of the destruction of the documents

The name of a witness to the destruction process
Make sure to ask a shredding company if they provide a certificate of destruction before they destroy your documents. Ask them to detail what's included on their certificate. This ensures you have all the necessary requirements by law or for your industry.
The certificate typially arrives within a week of the shredding date. However, it might arrive sooner, as many offer them on the same day.
Find a Shredding Company Today
---
Shred Nations partners with certified and reliable shredding companies throughout the United States. Call us today at (800) 747-3365, fill out the form on the page, or contact us directly using our live chat and we will connect you to several secure document shredders in your area.