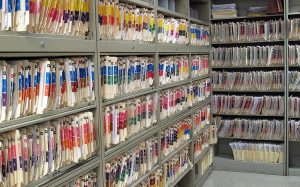 Medical information is highly valuable and often targeted by thieves. Stolen information can be sold, used to make false claims, or used to obtain medical treatment by using someone else's identity.
Healthcare providers and related businesses are obligated to protect patients' medical information to prevent the theft of their personal data. Careful management, handling, and disposal of patient files are critical in maintaining compliance and preserving confidentiality.
Shred Nations can help your practice safely manage its medical records with compliant document management and record shredding services.
Tips for Information Management in the Medical Industry
Effective information management keeps your practice in compliance. The process includes organizing, tracking, and maintaining paperwork. Doctors, care staff, and patients should be able to quickly access and share their information successfully. Below are some tips for efficient medical record management:
Use an EMR System
Electronic medical records compile your information in a secure digital format. Paired with document management software, you will be able to easily transfer information and provide instant access to any file. Our systems reduce errors, increase security, and simplify records handling.
Certified Shredding
HIPAA requires medical records to be disposed of in a way that cannot be reconstructed. Partnering with a certified shredding company ensures that cross-cut shredding techniques are used. Professional services also provide a certificate of destruction to verify compliance for all shredding services.
Medical Documents You Should Shred
Any documents containing personal information or information relating to a patient's diagnosis and treatment plan must be destroyed. That includes documents containing:
Names
Birthdates
Geographic identifiers
Phone or fax numbers
Email addresses
Medical record numbers
Biometric identifiers
Photos of faces
Social Security Numbers
Health plan beneficiary numbers
Account numbers
Certificate/License numbers
Intake paperwork
Medical records
Prescription data
Insurance forms
Medical Industry Regulations
HIPAA outlines the legal requirements that protect personal health information. Safe destruction is required when the record retention period is complete. Shredding is an approved method that renders your files permanently unreadable.
Health Information Technology Economic and Clinical Health (HITECH) Act
HITECH expands the security requirements of HIPAA and seeks to standardize the use of electronic medical records (EMR). It heightens enforcement and penalties for non-compliance. It also requires data breach notifications to patients.
Each state has minimum medical record retention periods, typically ranging from 6 to 10 years. Once medical records have reached their retention period, they must be destroyed in compliance with local and federal privacy laws.
Request Free Quotes on Medical Document Shredding
Shred Nations provides specialized services for healthcare providers. Our providers are compliant with HIPAA regulations and all federal and local privacy laws. Contact us today to connect with compliant medical shredding experts in your area. Call us at (800) 747-3365 or fill out the form and we will send you free quotes within minutes.