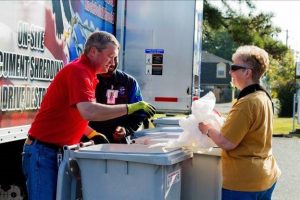 A shred event allows community members to safely and conveniently dispose of their personal files and keep their private information safe. At shred events, a mobile shred truck is stationed at a central location so community members can bring in their documents for a small fee, for free, or for a donation. It's a great way to help the community. To find a shred event near you, look through local news listings in the paper, or go online and search for a "Shred Day" or a "Shred Event".
Host a Shred Event In Your Community
---
Hosting a shred event in your neighborhood is an excellent way to prove your commitment to your community, as well as providing a safe and convenient way for people to keep their private info safe. Follow these steps to create a successful shred event in your area—or check out our extended guide to hosting a Shred Day!
Choose a Location
Great locations are central, public areas, such as school or church parking lots. The best times to hold shred events are on the weekends in the morning—when most people are available to stop by.
Coordinate with a Shredder
Choosing a reliable shredder who will show up on time and work efficiently is key. Shred Nations will connect you to several shredders in your area so you can choose the one that best meets your needs.
Recruit Volunteers
You can't get the shredding done without help! Enlist employees, family, and friends to help put on the event. You'll need greeters, promoters, and coordinators.
Promote Your Event
The best places to advertise shred events are local newspapers and news stations, on social media, and by posting flyers in community centers around town. The more people who know about the event, the more successful it will be!
Find a Reliable Shredder for Your Shred Event
---
Using a shredding provider who will be prompt and efficient is absolutely necessary for a successful shred event. Let Shred Nations help you find the best shredder for your needs. Call us at (800) 747-3365 or fill out our form for quotes from multiple service providers in your area, and choose the option that's best for you!