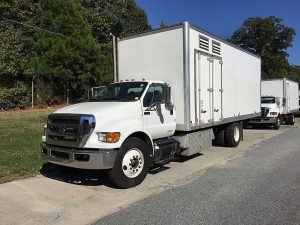 Mobile shredding consists of a shred truck equipped with an industrial-strength shredder that drives to your location. A shredding professional then loads the documents into the shredder while you watch.
Why Choose Mobile Document Shredding?
Security: You get to watch the shredding
Compared to offsite shredding which requires you to release your private documents to another company, mobile shredding services ease the pain by allowing you to witness the shredding process. 
Convenience: The shredder comes to you
The contractor will arrive at your door at a predetermined time, haul your documents out to the truck for you, and shred them within a matter of minutes. 
Compliance: Meet all federal and state privacy laws
With mobile shredding services, your company is in full compliance with all security and privacy laws.
Recurring Mobile Shredding Services
For extra convenience, you can preschedule mobile shredding services so your shredder shows up regularly.
How Scheduled Document Shredding Services Work
Place the provided secure shred bins throughout your office

Over time, collect your documents that require shredding in the bins

On the pre-arranged date, a mobile shred truck will arrive at your location

Your bins are emptied directly into the shredder

The newly emptied bins are returned to your office, and the cycle starts over
Get Free Quotes on Mobile Shredding Services Near You
To get free quotes from several providers in your area, fill out the form on the page, give us a call at (800) 747-3365, or contact us directly using our live chat.