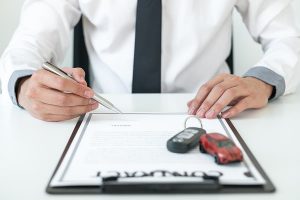 Shredding services can ensure that the private information collected and used is protected. This is especially important for the automotive industry, which is not only responsible for the private and confidential information belonging to dealerships and employees, but also for customers. 
Properly Handling and Shredding Confidential Information is Bound by Law:
---
The Privacy Act of 1974
A federal agency must follow to collect, use, transfer, and disclose an individual's PII.
Regulates the collection of consumers' credit information and access to their credit reports.
Fair Credit Reporting Act of 2001
Promotes accuracy in consumer reports and is meant to ensure the privacy of the information in them. Protects information collected by consumer reporting agencies such as credit bureaus, medical information companies, and tenant screening services.
Consumer Data Privacy and Security Act of 2021
Establishes the standard for the collection of personal data, including prohibiting businesses from collecting data without consent from the individual except as reasonably necessary for certain permissible purposes. Businesses must publish their privacy policies; implement data security programs to safeguard such data, and provide individuals with reasonable access to, and control of, their collected data.
Documents to Protect and Shred:
Personal Customer Information
Personally Identifiable Information (PII)

Income and employment records

Social Security Numbers

Financial statements

Drivers License information
Purchasing Information
Financial statements

Contracts

Credit reports

Loan applications

Customer lists
Accounting and Information Technology
Financial reports

Balance sheets

Internal audits

Bank statements
Procurement
Development plans and forecasts

Marketing materials

Product brochures

Press releases
Tips for Information Management in the Automotive Industry
---
The automotive industry is busy and fast-paced, and keeping information organized can be important when it comes to efficiency. Shred Nations can provide your business with document management. 
Go Digital 
A document management system (DMS) provides a way to organize, secure, and share your data. Easily manage demands and control your business with DMS software.
Protect Privacy 
Protect client information with regular shredding services. Shred Nations provides permanent disposal methods to reduce the risk of exposure to confidential information.
Get Free Quotes on Automotive Shredding Services
---
Call us at (800) 747-3365 or fill out the form to receive free quotes from shredding providers in your area. They will contact you within minutes to begin your project.