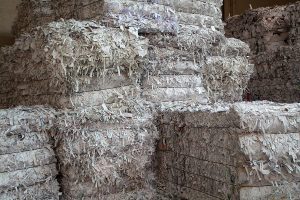 Off-site shredding is a secure shredding service that is completed in a controlled, plant-based shredding facilities. These facilities use industrial-grade shredders that can destroy up to 20,000 pounds of paper an hour. Our shredding providers can quickly and thoroughly complete even the largest projects with off-site shredding services.
Shredding your documents helps to prevent identity theft, fraud, data breaches, and more. With off-site shredding services, you can have all of your documents shredded at once and, when it is all said and done, you will receive a certificate of destruction for your records and verification.
Why Choose Off-Site Shredding Services?
Off-site shredding is a good choice for any sized shredding project, and can help to eliminate private documents quickly and securely. When you use an off-site shredding service, it can tend to be a cheaper solution than mobile shredding because of not shredding the documents on-site. There is no lack of security, buy the major difference is mobile shredding allows for witnessing the shredding live.
What Is the Off-Site Shredding Process
Here's how it works:
Your selected shredding company will provide you with

secure shred bins

to store your documents awaiting pick up.

A truck will come to your location to collect your shredding when requested.

Your documents will be safely transported to a nearby facility, where they will be destroyed quickly and effectively.

A certificate of destruction will be created to summarize the shredding process for your records.

Your shreds will be treated and prepared for the creation of new paper products.
Ready to Begin Off-Site Shredding Services? Contact Us Now
Contact us by calling (800) 747-3365, filling out the form, or using the live chat to request free quotes on offsite shredding near you.