Hard Drive Destruction in the Bronx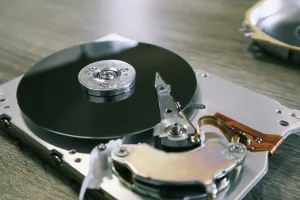 Is there a closet corner in your home or office packed with old hard drives, CDs, and computers that could use a dusting—or two? Think twice before you haul them out to the trash heap during spring cleaning, as these older technologies are now becoming the targets for security breaches.
With the right software, information on old electronics that have been erased or formatted can still be recovered by data thieves to plunder. Luckily, however, there is no software capable of extracting your sensitive information from devices that have been shredded.
Maintaining confidentiality can be a difficult job, and this is why it is even more important to take the necessary steps to eliminate the possibility of accidental disclosure. If hard drives are not properly destroyed, the information can still be recovered in the future. This can lead to thieves stealing your information, and using it with malicious intent. Hard drive shredding is the only way to know for sure your information is destroyed.
With hard drive destruction services from our providers at Shred Nations Bronx, you not only can get your electronics safely and securely destroyed, but you can also have them shredded for a price that doesn't break the bank. A few top examples of digital media which can contain sensitive information include:
Computer Hard Drives
Portable Thumb or Flash Drives
CDs and DVDs
X-Rays and Medical Records
Cell Phones
Whether you're across the river in Newark, on Long Island itself, or in the surrounding New York City area, Shred Nations Bronx has you covered—providing the hard drive shredding and electronic media destruction services you need to ensure your information is protected.
How Much Does Hard Drive Shredding Cost
On average, the cost per hard drive will be around $5-$15, depending on your location, how many you have, and the type. We recommend gathering a few before scheduling a service since the more hard drives you have to destroy, the less the cost per drive will be.
How Hard Drive Destruction from Shred Nations Bronx Works
To begin, submit a quote request by simply filling out the form for a free estimate, or by giving us a call at (718) 303-0768. Within minutes, you'll be contacted with competing quotes from the top electronic media destruction specialists in the New York City area.
After selecting a provider and scheduling your project, a certified electronics destruction specialist can come to your home or business to collect your materials. If it's more convenient, we also include the option to have your electronic media shipped to a secure shredding facility for destruction.
Once the materials have been collected, they're transported and fully destroyed at a secure electronics destruction facility. When the destruction process is finished, the shredded bits of digital media are separated into component pieces before being finally recycled.
Get Free Quotes on Hard Drive Destruction in the Bronx
If you want to truly ensure your sensitive information has been truly removed from your electronics, let Shred Nations Bronx provide the absolute destruction you're searching for with our hard drive destruction services.
To learn more or get started today, just fill out the form for a free estimate, or simply give us a call at (718) 303-0768.
Within minutes of receiving your request, you'll be contacted with a list of free quotes for the top hard drive destruction specialists in the Bronx and NYC's surrounding boroughs.
Shred Nations Bronx Location
Shred Nations Bronx
557 Grand Concourse # 3
Bronx, NY 10451
(718) 303-0768 
bronx@shrednations.com
Our normal operating hours are Monday–Friday from 9:00 AM to 6:00 PM and Saturday from 9:00 AM to 2:00 PM.
Shred Nations also proudly offers our shredding services to the following cities and boroughs throughout the Bronx and greater New York areas:
Albany | Brooklyn | Dutchess | Jersey City | Manhattan | Mt Vernon | Nanuet | New York City | New Milford | North Babylon | Queens | Syracuse | Union City | West Harrison | West Point | Westchester | Westwood | White Plains | Yonkers