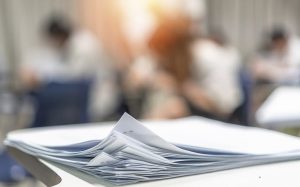 Educational institutions maintain paperwork for students regarding assessments, academics, health, finances, behavior, and more. Student files contain a considerable amount of private information that must be protected. Education document shredding ensures that student records are disposed of safely.
Shred Nations offers shredding and destruction services specifically designed for schools. Our goal is to minimize the cost of secure shredding while maintaining privacy and compliance for your school.
Education Industry Regulations
---
FERPA protects the privacy of student education records. It prohibits the disclosure of personally identifiable information without written consent.
PPRA protects student privacy in programs funded by the U.S. Department of Education.
State Record Retention Laws for Schools
State laws set retention requirements for educational records. Records should be safely destroyed based on retention schedules and state approval.
Education Documents You Should Shred
---
Budgetary documents
Admission records
Policy records
Monthly and annual reports
Personnel and employee files
Tax forms
Standardized testing data
District assessments
Incident files
Visitor logs
Attendance records
Student/Family applications
Student financial aid records
Debit accounts
Food program documents
Academic records
Student files
Medication records
Medical documents
Individual education plans
Tips for Information Management in Education
---
Effective document management is helpful in education because schools handle such a wide variety of documents. Organized records make it easier to access the information you need and keeps student data safe from unauthorized exposure.
Use a Digital System
Manual document management takes time from educators and administrators that are already stretched thin. Digital systems quickly organize, track, and communicate information.
Certified Shredding
Certified shredding services safely dispose of private information. Get rid of clutter, maintain legal compliance, and protect your students with Shred Nations.
Receive Free Quotes on Education Document Shredding
---
Shred Nations partners with reputable shredding companies across the country. We work with public and private schools, colleges, and universities to help maintain student privacy. Our specialized shredding services focus on compliance, security, and affordability.  Contact us to learn more about how we can benefit your organization.
Give us a call at (800) 747-3365 or fill out the form to receive free quotes on education document shredding services near you.