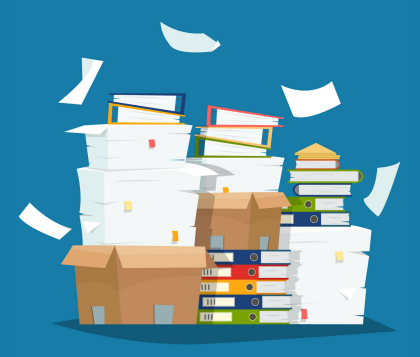 Keeping your private information safe is necessary for all organizations and individuals—but how often you require shredding is dependent on your unique needs.
While large organizations with lots of physical paperwork—such as hospitals—require shredding services on a regular basis, businesses in other industries may not produce a large enough volume of documents to need a shred truck stopping by every week or month.
With one-time shredding services though, you're given a secure and efficient option for shredding hundreds (or even thousands) of pounds of documents all at one time. making one-time shredding an ideal alternative to shredding on a regular basis.
How One-Time Shredding Services Work
Choose Onsite or Off Site Shredding Services
---
Decide whether you want to witness the shredding, or if it can be done at an offsite facility. Either have a shred truck visit your location and shred your documents while you watch, or have a secure truck pick up your items and shred them safely off site for you.
Find an On Demand Shredding Service Provider
---
Get quotes from several different shredding service providers to determine your best option. Prices will fluctuate slightly depending on distance and fees, and some providers offer different services than others. We'll put you in touch with several of our secure partners so you can choose the best option.
Shred Your Documents
---
Once you have found the best service option for your needs, schedule a date for the shredding service. Make sure your documents are gathered together, and the professional shredder will haul them out to the shred truck for you.
Get Free Quotes on One Time Shredding Services Near You
---
Do you need shredding services for a one time purge of documents? Shred Nations has an extensive network of secure document shredding service providers across North America—we can help you find the best service in your area for your exact needs.
Call us today at (800) 747-3365, fill out the form, or contact us directly using our live chat to be connected to secure document shredding companies near you. We look forward to helping you keep your private information secure.