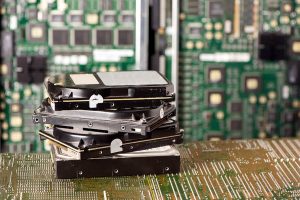 Your computer's hard drive stores more data than an entire room full of filing cabinets and hard drive disposal should be a main priority. Contrary to what most people believe, simply deleting files doesn't mean they're gone forever.
There are multiple ways to destroy a hard drive. However, not all destruction methods are effective at data deletion. It's important to dispose of hard drives in a secure and environmentally safe way.
When drives are not properly shred, the data is at risk for exposure and exploitation. There are numerous public software that malicious individuals can use to regain access to personal data.
The physical destruction of hard drives it the only way to ensure the data is unrecoverable. Hard drive shredding services can destroy the data stored as well as get rid of your unwanted device.
Why Does Hard Drive Disposal Matter?
---
When you retire your computers, you need to make sure the all the data is properly destroyed. Electronic information is already covered by the HIPAA and FACTA privacy laws, so it's important to properly take care of devices to eliminate the risk of data exposure for personal and legal matters. 
Hard drive shredding is the only method which ensures the complete destruction of data. This is because there is no way to salvage the broken pieces. Another benefit of shredding is it only costs around $7–$20 per drive and decreases as the number of drives you have goes up. This makes shredding the most cost-efficient method.
Onsite and Off Site Hard Drive Shredding
---
Hard drive disposal is critical to keeping information safe. This service has two main options, but it depends on preference and other variables on which is best for you.
Onsite Hard Drive Shredding
This is a mobile service where a shred truck comes to your location to shred the drives at your curbside. One of the major advantages is you get to watch the shredding occur.
Watching the shredding provides reassurance the drives are completely shred as well as certain compliance requirements. For records and legal purposes, you're also given a certificate of destruction.
Off Site Hard Drive Shredding
Off site shredding is where a provider will come and collect all of the drives from your location. Afterward, they will directly go to an off site shredding facility to be shred.
The hard drives are shred to pieces which ensures the data is gone forever. After the process is complete, a certificate of destruction is sent in the mail to confirm the time and place of destruction.
Hard Drive Disposal Methods
---
Hard drives store information on metal disks called platters. Completely destroying the platter is essential in ensuring that the data is totally unrecoverable. Hard drive destruction uses two methods that permanently destroy the platter:
Shearing
Shearing hard drives is the process of cutting a hard drive into tiny pieces. An industrial shredder cuts the hard drive into small pieces or strips using 40,000 pounds of force. Even if all of the pieces were recovered, there would be no way to put them back together.
Crushing
This is the process of implement physical force upon a hard drive either shattering or piercing the platter. Typically a large hole is punched through the platter causing the delicate magnetic surface to ripple and deform, rendering the hard drive useless.
The Hard Drive Disposal Process
---
Proper disposal ensures your data will remain completely confidential. Additionally, the hard drive destruction process is secure and compliant. 
Here's how it works:
You begin to collect hard drives for destruction and recycling.

The secure truck comes to your location to pick up your drives when requested.

Your hard drives are transported to an off site facility to be destroyed and recycled.

You will receive a certificate of destruction for your records, including HIPAA and FACTA compliance.

The recyclable parts are taken to a facility for reuse.
Certificate of Destruction
When you use a hard drive disposal provider, you're given a certificate of destruction for proof of compliance, with details including date, locations, and chain of custody. This certificate provides proof of destruction which is great for keeping records as well as assurance of the process being complete.
Chain of Custody
Hard drives may change hands several times during the shredding and hard drive disposal process, especially if you choose off-site shredding. To make sure your data stays safe along the way, there is a chain of custody, a paper trail that documents and tracks the movement of your documents or whatever else you have to shred.
Below are the components to the chain of custody:
Barcode Tracking:

 Barcodes are scanned at each touch-point to provide a record of where and when the boxes were picked up, dropped off, and destroyed.

GPS Tracking:

 Trucks are equipped with GPS tracking, allowing for real-time monitoring and history of the route and stops. 

24/7 Monitoring:

 Shredding facilities have 24/7 video surveillance. This provides both security and proof of safe service.
Environmentally-Friendly Hard Drive Recycling
---
Hard drives have the potential to be damaging to the environment. Improper disposal can have hard drives ending up in landfills or the ocean. Additionally, EPA laws and state hazardous waste requirements require the secure disposal of all electronics. 
Because of EPA standards and other compliancy restrictions, hard drive destruction is critical. In the event of any legal action against you, a certificate of destruction helps provide proof of proper destruction of electronics. Our hard drive service providers make sure to recycle the raw materials following a destruction service.
Get Free Quotes on Hard Drive Shredding Services
---
Hard drive destruction services ensure that the electronic devices were thoroughly destroyed. This renders them useless for data recovery. Shred Nations can help you decide what the best course of action is for your secure hard drive destruction project. We'll make the process as easy as possible as well. 
Start the process by filing out the form, giving us a call at (800) 747-3365, or contacting us directly using our live chat. Afterwards, you'll receive a free, non-obligation quote from local providers.