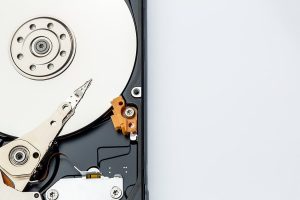 There are multiple ways to destroy a hard drive. However, when drives are not properly shredded, the data is at risk of exposure and exploitation. Hard drive shredding services can ensure that your data is unrecoverable.
Why Does Hard Drive Shredding Matter?
Electronic information is already covered by HIPAA and FACTA privacy laws, so it's important to properly take care of devices to eliminate the risk of data exposure for personal and legal matters.
Additionally, hard drives are potentially damaging to the environment and improper disposal can leave hard drives ending up in landfills or waterways. EPA laws and state hazardous waste requirements require the secure disposal of all electronics. Because of EPA standards and other compliance restrictions, proper hard drive destruction is critical.
Different Hard Drive Destruction Service Options
On-Site Shredding
This is a mobile service where a shred truck comes to your location to shred the drives at your curbside.
Off-Site Shredding
Off-site shredding is where a provider will come and collect all of the drives from your location. Afterward, they will go directly to an off-site shredding facility to be destroyed.
Devices with Hard Drives
Desktop computers, monitors, and external hard drives

Cell phones and mobile devices

Consumer electronics (tablets, laptops, and gaming consoles)

Printers, scanners, and fax machines
Protect Your Data Today with Hard Drive Destruction
Hard drive destruction services are a secure way to keep your information safe from theft or breach. Shred Nations can help you through the process of destroying your hard drives and other electronic data. Start the process by filling out the form, giving us a call at (800) 747-3365, or contacting us directly using our live chat.
Hard Drive FAQs
How much does hard drive shredding cost?
It costs between $5-$15 per hard drive, depending on your location, how many you have, and any special requests. The price per drive decreases the more you have.
Do drop-off locations accept hard drives?
No, our drop-off locations do not accept hard drives or other electronics. We have other solutions for your small-scale and large-scale needs. Give us a call to learn more!
How do you destroy a hard drive?
There are 3 main methods when destroying a hard drive: shredding, degaussing, or crushing. We recommend shredding as your hard drive will be completely destroyed and the information will be unrecoverable. With crushing, a hole will be punched in your hard drive, crushing it, and shattering the platters. Degaussing does not destroy the information but makes it unreadable.
Can a magnet erase a hard drive?
A magnet will still leave traces of information on your hard drive that can easily be recoverable by thieves.
Can I just smash my hard drive with a hammer?
Smashing a hard drive with a hammer will definitely destroy the hard drive, but it will not destroy the information. The data can still be recovered with simple software.