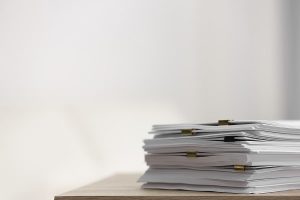 Here, we provide information, and in-depth content on information YOU want to know more about.
Each subject we have included below takes a detailed look at questions we get asked every day- click on any of the links to learn more!
Select the subject you want to know more about:
Threats to your company are always increasing, from corporate espionage and fraud to identity theft.  Don't overlook how vulnerable your hard-copy documents and traditional document management systems are to identity thieves and corporate spies.
Get insight on ways to protect your company against these threats from the time a document is created until the time it's destroyed.
Over the past five years, digital technology has continued to rapidly advance, and although there have been plenty of new ways of managing your information, this also means there are new ways to properly shred and dispose of your documents.
Let us help you identify examples of improper document destruction policies, and which media and information poses the greatest risks to businesses for data breaches.
Hosted in cities across the country, shredding events help to make communities a safer place to live and offer benefits to all participants—even event sponsors.
With this in-depth white paper, we explore the world of medical records, breaking down what they are and their different types, as well as the implications of mishandling medical records and how healthcare providers can take steps to protect themselves and their medical records from data breaches and identity thieves.
Celebrated as a cost-efficient solution method to improve day-to-day efficiency, digital documents have brought many benefits—as well as new electronic threats as well.
Let us help you to identity the greatest potential electronic risks to your business, as well as create sound strategies to protect yourself from them with services like hard drive shredding and electronic media destruction.
Home shredding can be messy if you try to do the job yourself, but shredding services can help tremendously. Learn about the different shredding services available to residencies, how much you can expect to pay, and much more here.
People need shredding for smaller projects, but they don't have the time for personal shredders or the money for mobile and offsite services. But with drop off shredding, we fill that need with a cost-effective solution. Get the guide to drop off shredding here.
There's no disputing the need or value of environmental sustainability, and while recycling services are good for the environment, they don't ensure the personal or proprietary information being recycled are secure.
Learn more about how today's shredding providers are adopting recycling processes to provide both a secure and sustainable way to dispose documents.
Despite the growing number of digital risks businesses need to address, they cannot afford to forget about threats for hard-copy data breaches as well.
Find information and learn more about how our shredding services help companies to take preventative steps before disaster strikes and ensure their document security throughout its destruction.
Get Free, No Obligation Quotes on Shredding Services Today!
If you have any questions about our shredding services, or already know what you need, feel free to fill out the form to the right or give our experts a call at

(800) 747-3365

.