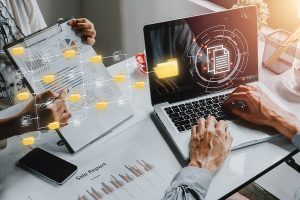 Businesses have a legal responsibility to safely maintain private information. When records are not handled properly, data leaks can occur and put your company at risk. For businesses that use paper, it's crucial to find secure and compliant commercial and business document shredding services.
While the world continues to move in a digital direction, paper still makes up a significant amount of business life. Whether for legal, compliance, or personal preference reasons, businesses still use a lot of paper. Keeping all of the data on that paper safe from exposure remains important, and the legal and financial costs if you don't can be steep.
Retention & Privacy Regulations for Businesses
Helps prevent and recover damages from the theft of trade secrets. Passed in 1996, the law came about after foreign countries stole a number of technologies from U.S. companies.
Promotes the accuracy and privacy of information collected in consumer reports. It also obligates the protection of sensitive consumer information provided to these reporting agencies.
Establishes standards for collecting personal data, requiring businesses to publish privacy policies and implement security programs to protect data.
Data privacy laws vary by state. All 50 states have data breach notification laws, but definitions may differ. 35 states have data disposal regulations. Businesses should comply with regulations for their area.
Record Retention Schedules for Businesses
Record retention schedules are based on the information in your records. Federal, state, and local laws may require you to retain different documents for different periods of time. For state specific information, contact the department that oversees records management in your state.
Business Documents You Should Shred
Account Records
Audits
Bank Statements
Client Lists
Confidential Correspondence
Contracts
Credit Card Information
Customer Documents
Employment Applications & Resumes
Estimates/Bids
Financial Statements
Health Insurance Forms
Human Resource Documents
Insurance Records
Inventory Records
Invoices
Legal Documents
Market Research
Medical Records
Payroll Records
Property Purchase Documents
Purchase Receipts
Tax Documents/Records
Office Equipment You Should Destroy
Audio Equipment
Backup Tapes
CDs/DVDs
Desktop Computers
Disk Drives
Flash Media & Microfilm
Hard Drives
ID Badges
IT-Media
Laptops
Scanners, Printers, & Fax Machines
Servers
SD Cards
Smartphones & Mobile Devices
Tablets
Protect Your Data with Business Document Shredding Services
Shredding is an approved destruction technique for paper and other materials. It permanently disposes of your data to prevent recovery, theft, and fraud.
Every business has different needs when it comes to their shredding. That's where ShredNations can help. We offer services as simple as drop-off locations near you to secure mobile shred trucks that come to you, where you can witness the shredding and ensure compliance with all the laws in your area. All of ShredNations partners can also provide you with a certificate of destruction, protecting you from liability in the case of a data breach.
Get Business and Commercial Document Shredding Services Today
Shred Nations works with businesses across the country to protect their valuable information. Our network of providers will be happy to work with you and to address your business-shredding needs, whatever they may be. Call us at (800) 747-3365 or fill out the form on the page, and we'll connect you to a shredding provider in your area within minutes.