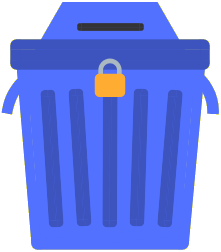 Off Site Paper or Document Shredding is when a professional shredding company picks up your documents in locked bins and transports them to be shredded in a secure facility.  Since we use shredders that are too big to fit in a truck, off site shredding gives you the ability and convenience to have someone pick up your documents to be shredded at an exceptional price.
Off site shredding is a better option for high-volume shredding projects.
If you're planning to shred a tremendously large volume of documents, an off site shredding service will offer you the convenience of being able to have your documents picked up at a significantly better price point than a mobile shredding service. Typically, you could save anywhere from $1 to $2 per box by using an off shredding company (but those prices vary depending on location and provider).
Benefits of Off Site Shredding
Documents Are Co-Mingled
Since all your documents are picked up and shredded with everyone else's documents that used the same service, there's a better chance that no one will be able to take your shredded documents and re-assemble them.  Since industrial shredders at secure plants shred up to 20,000 pounds of paper an hour, there's a minimal risk of your company being exposed to a data breach.
Schedule Regular Scanning Services
Just like a mobile shredding service, off site shredding companies give you the ability to have a regularly scheduled shredding management plan, or a regularly scheduled purge.  Ongoing pickups eliminate excess documents in your office, and reduce the chance of documents being compromised or misplaced.
Off Site Shredding is Secure and Reliable
Although there's other options that allow you to witness your documents being shredded while you watch, off site shredding still provides a secure, reliable option for a one-time purge or an ongoing shredding project.
Since all documents are placed in locked bins and transported to a secure facility, there's minimal risk of any kind of breach or security issue.  When your project is complete, you will receive a certificate of destruction that states the specifics of when your documents were shredded.
If you have concerns about security and want to ensure your documents are destroyed immediately, a mobile shredding service might the way to go.