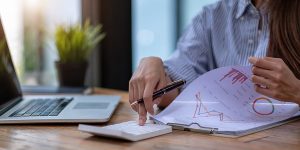 Data breaches are a huge concern in the financial industry. Access to financial information allows criminals to steal money and other assets. Documents containing any type of financial information should be handled and disposed of carefully to prevent theft.
Shred Nations offers financial document shredding and hard drive destruction services to safely dispose of financial documents and prevent client data from being retrieved. Our services comply with all applicable privacy regulations and industry standards for secure disposal.
Financial Industry Regulations
---
SOX mandates standard practices for financial record keeping and reporting.  It requires records to be maintained accurately and retained for a mandatory 7-year period.
Check 21 allows consumers to create a digital version of a paper check for remote deposit. It does not add new retention requirements.
GLBA defines how financial institutions should handle and destroy private information. It regulates information sharing and implements security practices to protect financial data.
Financial Documents You Should Shred
---
Account files
Audit records
Financial reports
Bank statements
Payroll documents
Receipts
Financial gain statements
Balance Sheets
Tax forms and records
Loan applications
Insurance documents
Mortgage documents
Checks
Credit and debit notes
Vouchers
Client and employee data
Invoices
Credit reports
Internal communications
Client correspondence
Sales and purchasing records
Cash memos
Pay-in slips
Deposit and withdrawal slips
Tips for Information Management in the Financial Industry
---
Finance-based businesses thrive on efficiency. The industry is fast-paced and requires extreme accuracy. Shred Nations recommends a digital document management system (DMS) to streamline your information management processes. Professional shredding is also critical to protect valuable client data.
Go Digital
Digital files lower costs, reduce exposure risks, and provide instant access to your records. Our web-based applications include a remote deposit interface, signature and data extraction, automated document routing, and invoice processing.
Shred Safely
Professional shredding ensures that your documents are handled safely. Shred Nations partners with reliable and certified shredding companies. We provide a certificate of destruction to verify compliant disposal with every service.
Request Free Quotes on Financial Document Shredding
---
Banks, investment firms, and credit card companies handle valuable data for their clients. They have an obligation to safely handle financial information with effective records management and secure disposal. Shred Nations will help your organization succeed with our industry-specific services.
Contact us to learn more by calling (800) 747-3365 or filling out the form. We will send you free, no obligation price quotes on financial documents shredding services in just minutes.