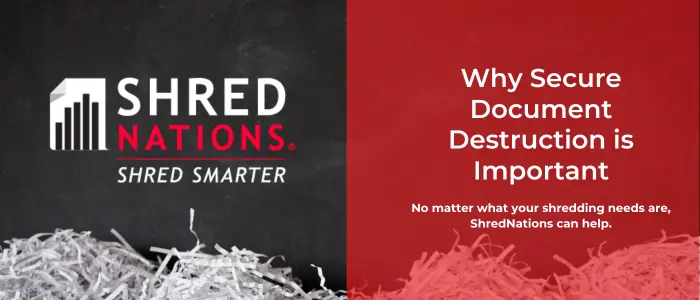 Effective document management includes a comprehensive strategy for information protection. Adding secure document destruction to your management strategy prevents leaks of information, protecting your business. Information protection also maintains privacy compliance and builds positive customer relations.
Documents containing personal information, financial data, or identification numbers should be destroyed with secure shredding services. Professional shredding prevents information theft, frees up office space, and includes recycling; but the benefits don't stop there.
The security provided by document shredding stops fraud, protects proprietary information, and gives you peace of mind. Shred Nations handles your documents safely, professionally, and confidentially with every service.
Security Focused Document Destruction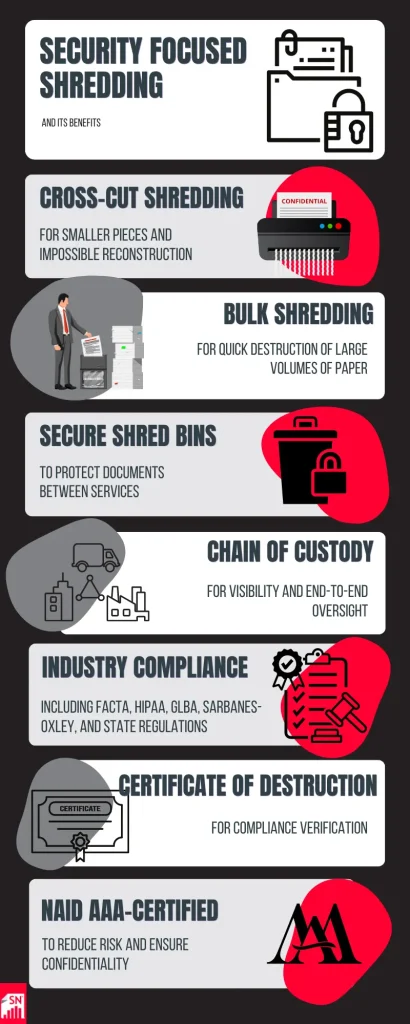 When thinking about document security, digital document protection like encryption and passwords, probably come to mind. Though cyberattacks are common and require prevention, most cases of identity theft are still obtained from paper-based sources. Physical document protection involves safe storage, careful handling, and permanent destruction by shredding.
Security-focused shredding offers:
Secure Service Options
Secure document destruction is available in a number of options to make shredding easy and convenient. Whether you are destroying large amounts of paper on a regular basis or small amounts every now and then, we have options to meet your needs and keep your information safe.
Mobile shredding comes to your location to shred your documents onsite. You will be able to witness the shredding process in-person, combining high security and efficiency in one affordable service.
Off site shredding is completed in a secure shredding facility specifically designed to tackle large volume projects with limited access. Safe collection and transportation to the facility are included with off site services.
Ship N Shred is a mail-in shredding service designed for small-volume projects. Simply, box your documents and schedule FedEx pickup to send your documents in for secure shredding.
Recurring shredding services help your business maintain a consistent shredding schedule. Select from mobile and off site services on a weekly, bi-weekly, monthly, or annual schedule.
If regular shredding services are not needed, a one-time purge of all your documents may better fit your needs. A purge clean-out can quickly dispose of thousands of pounds of documents in one service.
Shredding events are offered to the community by various organizations. Organizing an event is a great way to promote your business and offer safe shredding solutions to those in need.
Why is Secure Document Destruction Important?
Identity theft and information fraud are on the rise. Secure document destruction prevents your information from being exposed, stolen, and abused. If your data is not properly destroyed you face numerous consequences including legal penalties, bad publicity, disclosure of trade secrets, and monetary losses.
Secure document destruction meets strict requirements for safety, verifies compliance, and minimizes risk. Professional services are quick and convenient, saving time and money. You won't have to worry about maintaining or operating personal shredders, ensuring that you and your team can focus on your jobs, while we protect your private information.
Schedule Secure Document Destruction Services Now
Protect your business with secure shredding services from Shred Nations. We partner with certified shredding companies across the nation to connect businesses with high-quality, local shredding options. Give us a call at (800) 747-3365 or fill out the form to receive free quotes on shredding and destruction services near you.