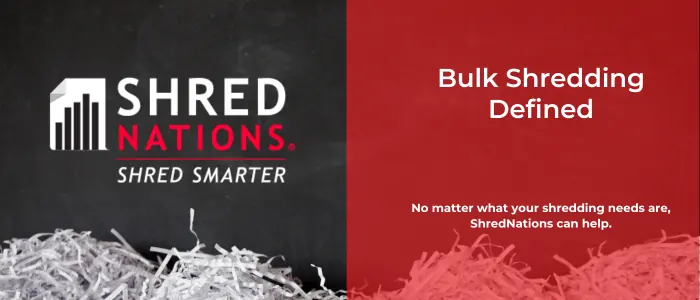 Bulk shredding, like purge shredding, is essentially rounding up all of your unnecessary documents and shredding them in one fell swoop.
The reasons to pursue a bulk shed vary, but fundamentally they're used to de-clutter, free up office or home space, and get rid of documents no longer worth keeping.
How Bulk Shredding Works
Bulk shredding differs from standard office or home shredding in its volume. Shredding a few papers here and there is quick and simple, but when you have 5 or more full boxes, it becomes a lot more time-consuming. 
Opting for a bulk shredding service, which can shred over a hundred pounds of documents in just minutes, can save you tons of time, and through that, money.
Mobile and Off-Site Bulk Shredding
The most common services used to conduct a bulk shred are mobile and off-site shredding. Both of these services will bring a truck to your location. With mobile shredding, they'll conduct the shredding at the place of your choosing. If your business requires witnessed shredding, mobile shredding provides the means to do it. The cost of mobile shredding averages around $140, which covers up to 120 lbs of documents.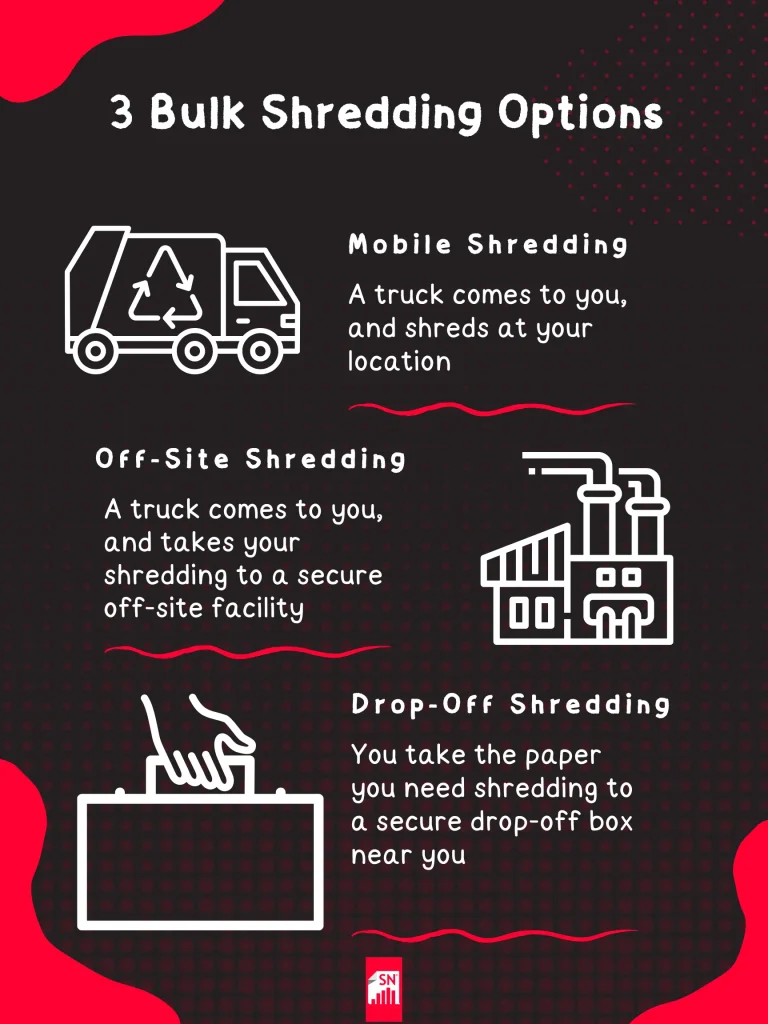 Off-site shredding follows a similar process, except the truck takes the documents to an off-site facility to shred them. Since the truck isn't a specialty shred truck, the cost typically runs a little lower.
Regardless of the method, you will receive a certificate of destruction, guaranteeing the secure destruction of your documents.
Drop-off Shredding
Drop-off shredding tends to work best for smaller shredding projects, but it is an option if your office is small or you're cleaning out your home. With drop-off shredding, you take the papers you need shredded to a secure shred box at a drop off location. Then, a truck will pick up the documents and take them to an off-site facility for shredding.
The cost for drop-off shredding typically runs at $1/lb, making it an affordable option if you only have a small quantity of paper to shred.
The Benefits of Bulk Shredding
The two key benefits that come from bulk shredding are enhanced data security, and more space in your office or home.
Security
Much of the coverage around data security revolves around the digital world, but physical data security remains important. Whether at home or at the office, you likely possess several documents that contain sensitive personal information. Making sure those documents go through the proper destruction process is important to keeping your data safe.
Space
Paper, while innocuous at first, can quickly eat up space. It can take the form of filing cabinets, stuffed desks, or papers scattered around. Regardless, clearing out that paper gives you your space, and sometimes your sanity, back.
Find the Right Shredding Service for you with Shred Nations
No matter which shredding service you need, Shred Nations can help. We work with shredding partners nationwide, and operate hundreds of drop off locations across the country. Give us a call at (800) 747-3365, or fill out the form on the page, and we'll work with you to figure out the shredding solution that works best for you.