South Jersey Mobile Shredding Services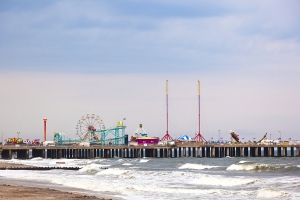 No matter what line of work you are in, every business is required by law to retain certain documents, as well as for their own referential purposes. Over time, the number of papers, files, and boxes starts to accumulate, leaving your office occupied with what seems like dead space.
What are you supposed to do with all of these documents when it is no longer necessary to keep them on hand? With fraud and identity theft constantly on the rise, it is important to ensure the proper destruction of these important business documents. But you're trying to run a business here—who has time for that?
Both you and your employees have other responsibilities to attend to, and not enough time for gathering and transporting all of these files to be disposed of. Rather than risking the future of your business by neglecting to dispose of some very personal information, and allowing these documents to pile up and occupy more space in your busy office, you now have other options.
A mobile shredding service can take care of this problem for you.
Onsite shredding allows you peace of mind in seeing your important files being turned to bits and pieces without the interruption of your daily business functions. Furthermore, you can feel confident in the security of our shredding services by receiving a Certificate of Destruction for every visit. Wherever you are in the South Jersey area, we are able to accommodate you.
From Cape May to Toms River, and all the way to Princeton—our shredding trucks can come to your location and save you the time and hassle of the destruction process. So where do you go from here?
Steps in the Mobile Shredding Process for South Jersey
You've decided that an onsite shredding service seems like the best solution for you or your business. What do you do next?
To get started, simply fill out the form on the right or give us a call at (856) 335-1072. Our team of professionals is prepared with answers to any questions you may still have, and will connect you with a few different options best suited for your shredding project. Soon after, you will hear back from these companies with personalized shredding quotes.
It is up to you to decide which shredding service makes the most sense for your specific needs. The company of your choice will then provide the secure, locking bins in which you will store the documents that are no longer needed.
You will set up a schedule for the shredding trucks to come to your location on a regular basis. Then, your only duty is to throw all of those unnecessary files into the shred bins until your next scheduled visit.
For each scheduled visit, the shredding truck will come right to your location and pick up the shredding bins for you without ever coming into physical, or even visual, contact with your confidential information. You will receive a certificate of destruction for every service that is completed.
Security of Mobile Shredding Services
What would be the point of a mobile shredding service if you're unsure about the security of its processes? You can rest assured that all of our shredding trucks are compliant with federal and New Jersey state laws, including FACTA and HIPAA.
If this still doesn't ease your mind, you will also receive physical evidence of the security of every project completed in the form of a Certificate of Destruction. Many companies have set even higher standards for the security of their services. Compliance with NAID certification regulations ensures the highest level of safety and reliability, allowing your business to maintain its trustworthy reputation.
Approximate Cost of Your South Jersey Shredding Project
When it comes to deciding which shredding service is best for your business, the cost is usually one of the biggest deciding factors. So how much does an onsite mobile shredding service usually cost in the South Jersey area? Having a shredding truck come out to your location usually costs around $100 for each visit.
For businesses that need a large volume of documents disposed of at once, this may be the most economical solution. For projects involving only a few boxes worth of information, a drop-off shredding location would likely be a better investment. These services usually cost around $1 per pound, meaning a 20-lb project could only cost $20 rather than spending $100 for a shredding truck to come to you.
Get Your Free Quote on a Shredding Solution for Your Business!
Shred Nations South Jersey wants to help you find the right document destruction service for your unique needs. We offer any type of shredding service you may prefer, including:
Within minutes of receiving your request, you will hear back from us with specialized shredding quotes. Don't hesitate—just fill out the form on the right, or give us a call at (856) 335-1072 and one our experts will connect you with the right shredding contractor for your project!
Shred Nations South Jersey Location
Operating Hours:
Monday and Wednesday from 8:30 AM to 7:00 PM,
Tuesday, Thursday, and Friday from 9:00 AM to 7:00 PM
Saturday 9:00 AM to 4:00 PM.
Shred Nations proudly serves these cities in the South Jersey area:
Atlantic City | Brick | Camden | Cape May | Cherry Hill | Gloucester Township | Marlton | Medford | Millville | Moorestown | Pitman | Princeton | Toms River | Turnersville | Vineland