Shred Nations South Jersey Location
Shred Nations Cherry Hill
1409 Marlton Pike East #168
Cherry Hill, NJ 08034
(856) 335-1072
south-jersey@shrednations.com
Hours:
M-F 8:30-7:00
Sat 9:00-4:00
Sun closed
Pricing:
$0.89 per pound
* Pricing is not guaranteed and is subject to change by the individual merchant
South Jersey Secure Shredding Services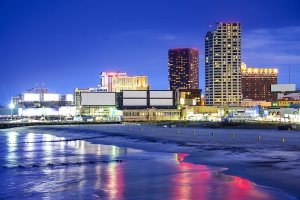 South Jersey is the area of New Jersey that typically includes the eight southernmost counties of the state. South Jersey is considered a peninsula as it is surrounded by water on three sides (the Atlantic Ocean, the Delaware Bay, and the Delaware River), yet is still connected to the mainland.
South Jersey is home to one of the most popular tourist locations in the country—Atlantic City began as a resort town, opened the first boardwalk in the world in 1870, and was the first location in the Eastern United States to make its way into the world of casino gaming.
Atlantic City is now second to Las Vegas in terms of being the largest casino gambling economy in America.
Although the state of New Jersey does not host any professional sports teams, residents seemingly have the upper hand in that they are able to choose between a couple of different options. They generally side with either a Philadelphia or a New York City team.
South Jersey also offers multiple opportunities for higher education, including Rowan University, Stockton University, Camden County College, Ocean County College, along with many more.
Shred Nations South Jersey specializes in professional document destruction services, ensuring that your confidential information is securely and thoroughly disposed of in order to protect against fraud and identity theft. We offer customized pricing options and are able to connect you with any type of shredding service tailored to your specific needs.
Our Shredding Services
Would you feel more comfortable being able to watch your documents being turned to shreds? Do you want to save time and money by having a shredding truck come to your location? Onsite mobile shredding may be the solution for you!
Do you have such a large volume of documents that you're not sure how they would fit in a shredding truck? Let us take them off your hands and take them to one of our secure offsite shredding locations.
Your digital files contain a lot more information than you think. Don't make the mistake of letting years and years of your confidential information fall into the wrong hands—we offer digital destruction services for any and all of your electronic files including CDs, DVDs, X-rays, hard drives, computers, fax machines, and much more! Shred Nations South Jersey offers all of these services, along with many more.
No matter your unique shredding needs, we've got you covered. Give us a call at (856) 270-6000 or fill out the form on the right for your custom free quote on shredding services in the South Jersey area today!
New Jersey Laws and Regulations
State of New Jersey PL. 1953, C.410—The Destruction of Public Records Act requires the proper disposal of confidential data once it is past its required retention period.
State of New Jersey PL. 2005, C.226—This Identity Theft Prevention Act is an amendment of P.L. 1997, C.172 and requires the implementation of a security system in order to prevent the spread of confidential information, the destruction of such information after its required retention time so that it is no longer obtainable, and the disclosure of any type of security breach to both the necessary authorities as well as the individual(s) whose information may have been unlawfully accessed.
Get Your Customized, No-Obligation Quote on Shredding Services in the South Jersey area today!
Here at Shred Nations South Jersey, we know that every business has its own specific needs. Whether you need to see your information being shredded right before your eyes or to get it out of your sight and off to a secure shredding site, we are here to help every step of the way. Simply fill out the form on the right, or give us a call at (856) 270-6000.
Our experts are prepared to give you a free, personalized quote within minutes. We will set you up with a contractor that will get the job done as efficiently and securely as possible.