South Jersey Hard Drive Destruction Services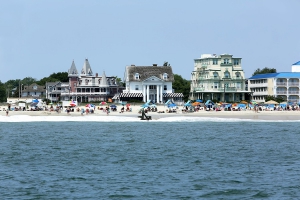 Now that you've properly disposed of those physical papers and files that you no longer need, you have nothing else to worry about, right? Actually, there is yet another form of data to consider.
Modern technology has provided businesses with a much more efficient way to manage their documents and information. Confidential information can be stored on hard drive, and, if not destroyed properly, the data can be recovered. It is important to take the necessary steps to protect vital information from potential theft or being hacked.
Computers, hard drives, CDs, and other electronic mediums allow these businesses to maintain their confidential files much more easily without taking up the space that physical copies would.
The personally identifiable information stored on these devices is at risk of being stolen and taken advantage of. Though it may be more difficult for someone to obtain the data off of them, the consequences of a data breach are far too great to take the risk.
For this reason, it is important that any electronic device containing confidential information is properly destroyed. You may think you can easily solve this problem by deleting the data off of your device, but unfortunately, it is still possible for someone to retrieve that information using the right software.
Thankfully, we have an answer. No one will be able to pull your information from a device that has been turned to shreds! Shred Nations South Jersey offers hard drive destruction services to individuals and businesses throughout the South Jersey area. From DVDs to hard drives, to microfiche and more, we are here to help.
How South Jersey Hard Drive Destruction Works
By filling out the form on the right or giving us a call at (856) 335-1072, our experts will be able to answer any of your questions and to connect you with a few options for a local hard drive destruction service provider.
In a few short minutes, these companies will contact you with quotes for your destruction project. Choose the company that best fits your needs.
You will decide how you want your data transported to be destroyed. You are able to drop it off, schedule for it to be picked up by your contractor or to ship it off to one of our secure locations.
Your electronic data will be adequately destroyed and recycled. You will receive a Certificate of Destruction containing the details of your shredding service.
Is Hard Drive Shredding Secure?
Similar to shredding physical documents, hard drive destruction companies must follow all federal and New Jersey state laws. Their compliance with these laws ensures the security of your destruction service. You will also receive a Certificate of Destruction verifying the completion of your project.
Additionally, there are laws and regulations (such as HIPAA and FACTA) that need to be upheld during certain practices. Trained professionals handle hard drive destruction carefully to ensure services are secure, affordable, and confidential. To find out more, call (856) 335-1072 to discover the best hard drive destruction option for your needs.
Approximate Cost of Hard Drive Destruction in South Jersey
Estimating the cost of an hard drive destruction service can be misleading. There are many factors to consider when it comes to such a project, such as the volume of electronic media and the specific type of electronics that need to be destroyed. Yet the larger the number of units you have, the less you pay per unit.
By filling out the form on the right or giving us a call at (856) 335-1072, our experts at Shred Nations South Jersey will be able to provide you with a more specific, personalized quote.
Call Us to Receive Your Free Quote Today!
Shred Nations South Jersey wants to help you with your electronic media destruction project. We service anyone in the South Jersey area. Just give us a call at (856) 335-1072, or fill out the form on the right. Within minutes of receiving your request, one of our experts will contact you with quotes from contractors that will work quickly and securely to get the job done.
Shred Nations South Jersey Location
Operating Hours:
Monday and Wednesday from 8:30 AM to 7:00 PM,
Tuesday, Thursday, and Friday from 9:00 AM to 7:00 PM
Saturday 9:00 AM to 4:00 PM.
Shred Nations proudly serves these cities in the South Jersey area:
Atlantic City | Brick | Camden | Cape May | Cherry Hill | Gloucester Township | Marlton | Medford | Millville | Moorestown | Pitman | Princeton | Toms River | Turnersville | Vineland
Additional Electronic Media Destruction Resources
Importance of Electronic Media Destruction—Still aren't sold on why you need to wipe data before disposing of electronics? Check out this article.
Degaussing a Hard Drive vs. Erasing It—Erasing a hard drive doesn't necessarily mean that your company's proprietary and confidential information is unrecoverable. The only way to ensure your data is completely erased is to degauss it.
Why Electronic Media Destruction is Critical for Your Business—Electronic media destruction is one of the most important steps in an information security plan. Get a breakdown of why proper disposal of equipment is a critical step to protect your company from a data breach.