Hard Drive Destruction Services in Macon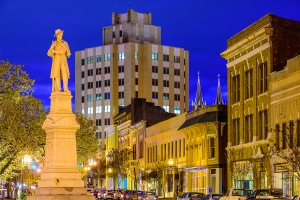 Most companies and individuals keep at least some sort of sensitive data on hard drive devices, and these devices need to be properly destroyed to protect that information.
Hard drive data can still be recovered if it is not properly taken care of. Hackers and thieves can potential sweep in to gain access to the data for malicious purposes. In order to ensure that the information will be unrecoverable, hard drives need to be completely shredded.
Hard drive destruction companies have several techniques for the physical destruction of media devices that thoroughly destroy any information on them.  The types of media that need to be properly destroyed vary, but here are some common examples:
Credit and Debit Cards
X-rays
Hard Drives (rotational, magnetic, and solid state)
CDs / DVDs
Thumb / Jump Drives
The only way to ensure your data has been completely destroyed is through physical destruction, and Shred Nations Macon can connect you to the best data destruction and hard drive shredding service providers in Bibb County.
How Data Destruction Works in Macon, GA
Here are the steps in the data destruction process in Macon, GA:
Start by getting several quoted options—call us at (678) 276-8214 or fill out the form and we will get you several free quotes from qualified data destruction specialists in your area.
Depending on what works best for you, you can either drop off your electronics at a secure location, have your items picked up for destruction, or you even have the option of mailing them to provider.
Once your devices have been completely destroyed, the pieces are separated into component parts and recycled.
Bibb County Hard Drive Destruction Security
Every company in the U.S. that provides data destruction services must comply with the regulations set forth by the Department of Defense and the National Security Agency regarding proper hard drive destruction.
For added assurance, once your job is completed, your data destruction company will send you a certificate of destruction, verifying that the job was done in accordance with all federal and Georgia state laws.
Partners are trusted to keep your information completely confidential, but it is also important to remain compliant with industry regulations such as HIPAA and FACTA. All services are compliant, secure, and will keep your information confidential from the beginning to the end.
Get Free, No Obligation Quotes on Hard Drive Destruction Services throughout Macon
Do you need your hard drive destroyed beyond a doubt? Shred Nations Macon partners with several Macon-based service providers who know the best techniques for absolute data destruction. We can easily connect you to our network and get you several quoted options for free, simply call us at (678) 276-8214 or fill out the form.
Hard drives are often forgotten as a source of leaked information, but to keep yourself and your company safe, always in engage in proper destruction techniques.
Shred Nations Macon Location
Shred Nations Macon
90 Glenda Trace
Newnan GA 30265
(678)-276-8214
Email: macon@shrednations.com
Our normal operating hours are Monday-Friday from 8:00 AM to 6:30 PM and Saturday 9:00 AM to 3:00 PM
Shred Nations proudly services these cities near Macon and the rest of Central Georgia:
Alpharetta | Angels Acres | Antebellum North | Atlanta | Byron | Dry Branch | Duluth | Forsyth | Gray | Gordon | Griswoldville | Huber | Ivey | Jeffersonville | Kirkwood | Lawrenceville | Lizella | Marietta | Norcross | Payne | Roberta | Rutland | Sandy Springs | Smarr | Tucker | Walden | Wesleyan Hills | West Oak | Whitehouse Plantation