Off-Site Paper Shredding Services in Cambridge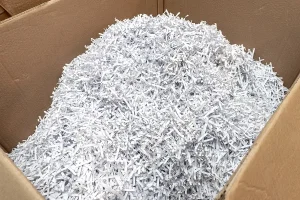 Large volume projects are no problem for Shred Nations. No number of documents is too much for our network of providers, our partners have trucks and shredders that are large enough to shred years of documents into little bits for recycling within minutes.
Shredding can sometimes become a costly investment, but through Shred Nations we will connect you with inexpensive options to fit your budget perfectly. We can even offer you any kind of frequency service:
One time Purges
Weekly, Bi-Weekly, and Monthly Services
Drop off services for small-scale shredding projects
How Much Does Off-Site Shredding Cost
Each project's budget is customized to your specifications. Size of project, time constraints, and location. Even though it is offsite shredding your location matters because our contractors come to you and pick up all the bins and take them back to the secure shredding location.
On average, off-site shredding is priced at about $130 for a project up to 120 lbs. However, the price does vary based on location, project size, and more.
Shred Nations strives to give you the best price, so no matter all the factors that go into making the project possible, working with your budget is a priority and we will comply.
How Off-Site Shredding Works
Offsite shredding guarantees your paper is shredded efficiently and securely. Here are the major steps to finding a shredding company and getting your shredded needs solved:
First, call (617) 229-6385 or fill out the form to get your free no-obligation quote within minutes.

One of our friendly Shred Nations representatives will connect you with a Cambridge local contractor.

Choose a company that will best fit your shredding needs, considering budget, convenience and the size of your project.
Schedule an appointment with the chosen provider and they will drop-off secure bins for all your documents. The bins will then be picked up at a discussed later time and taken to a secure offsite location to be destroyed.
Get Free Quotes on Offsite Shredding Services throughout Cambridge, MA
Find out your Cambridge offsite shredding cost by calling (617) 229-6385 or filling out the form and receive a FREE, no-obligation quote within minutes. Shred Nations will make sure to answer any questions or concerns you may have.
Shred Nations Cambridge Location
Shred Nations Cambridge
955 Massachusetts Ave. #315
Cambridge, MA 02139
(617) 229-6385
cambridge@shrednations.com 
Our normal operating hours are Monday — Friday 8:30 AM to 6:30 PM, Saturday 9:00 AM to 5:00 PM, and Sunday 10:00 AM to 3:00 PM.
Shred Nations proudly serves these cities and counties throughout the Cambridge area:
Amherst | Boston | Brockton | Haverhill | Lawrence | Lexington | Lowell | Manchester | Marlborough | Newton | Shrewsbury | Waltham |  | Worcester