Offsite and Pick-up Shredding Services in Palm Beach County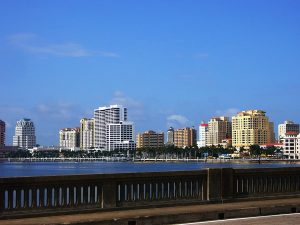 Off-site document shredding is the most convenient, cost-efficient way to shred a large volume of paperwork.
We'll still offer you the convenience of transporting your materials like we do with mobile shredding services, but we'll shred them at our secure facility rather than at your location. This option saves you valuable time because you won't have to stand around and watch.
For regularly needed shredding services, offsite shredding provides the best solution. Your service provider can even give you locked containers free of charge so that you can store your documents inside them until your scheduled service.
You'll get a Certificate of Destruction with details of your projects and a list of witness signatures once the job is done. Let us help you find the best price for your offsite shredding project, no matter what frequency you require from one-time purges to weekly, bi-weekly, and monthly ongoing service.
To get started, give us a call at (561) 366-2957 or fill out the form.
How the Offsite Shredding Process Works
Here's a step-by-step breakdown on exactly how the off-site shredding process works:
To get your project started, first call us at (561) 366-2957 or fill out the form for free quotes on nearby shredding services in South Florida. We will quickly get you quotes for your specific project.
After you've selected and scheduled the best service option for your needs, your documents will be collected by trained security personnel and loaded into a secure truck. The truck is safely transported by security personnel to a secure shredding plant.
Only authorized personnel are allowed to come into contact with your documents at the plant. Your files are loaded into an industrial-sized shredder. The shredded materials are mixed with the materials if thousands of other projects so you don't have to worry about your materials being put back together again.
You are sent a certificate of destruction detailing the time, place, amount of shredded files, and a list of witness signatures. The materials are promptly taken to a Florida recycling facility where they are compacted, pulped, and recycled into new paper.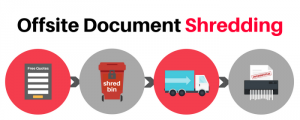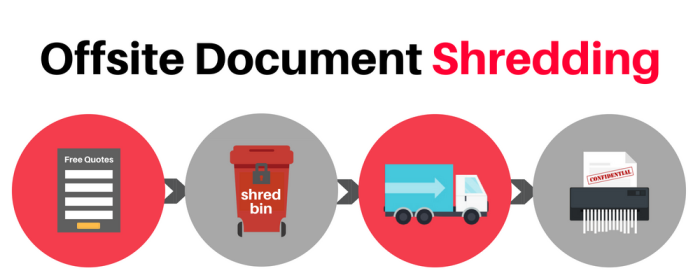 The Costs of West Palm Beach Offsite Shredding Services
Offsite shredding is the cheaper option when it comes to high-volume shredding projects. Offsite shredding costs on average around $130 in South Florida. When compared to a drop-off shredding service off-site shredding can save you a significant sum.
The average rate for drop-off locations is $1 per pound, and one box full of paper can weigh in around 30 pounds. Shredding three or more boxes of documents at a drop-off location could cost you at least $90, making offsite shredding the more cost-effective option.
Get Free Quotes on Secure Offsite Shredding in West Palm Beach Today!
Do you need a way to destroy a large amount of paper in West Palm Beach or anywhere in Palm Beach County? Shred Nations West Palm Beach can connect you with secure offsite shredding services for companies or individuals. Within minutes, you'll get quotes from a local provider near you.
To get started, give us a call at (561) 366-2957 or fill out the form. Once we receive your request, shredding contractors will be in touch to complete your shredding project as quickly as possible.
Shred Nations West Palm Beach Location
Shred Nations West Palm Beach
7750 Okeechobee Blvd #4
West Palm Beach, FL 33411
(561) 366-2957
west-palm-beach@shrednations.com
Our business hours are Monday through Friday from 8:30 AM to 6:00 PM, and Saturday from 10:00 AM to 2:00 PM.
Shred Nations West Palm Beach is proud to serve these cities across Palm Beach County and the South Florida region:
Boca Raton | Boynton Beach | Delray Beach | Greenacres | Haverhill | Jupiter | Lake Worth | Mangonia Park | North Palm Beach | Pahokee | Palm Beach Gardens | Riviera Shores | Royal Palm Beach | Tequesta | Wellington