Mobile Document Shredding Services in San Francisco and Northern California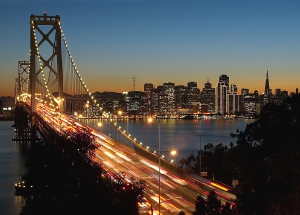 Busy lives and businesses can lead to stacks of old paper, documents, and records that stack up over time. Suddenly years after opening your first file cabinet you're now swamped in documents. So the question now becomes, what is to be done with it all?
Though the easy thought of just hauling it out to the dumpster behind the building may flash across your mind briefly, quickly cast it aside. Not only is this incredibly irresponsible, but there are also strict laws and regulations that specifically mandate the proper destruction of these sensitive materials.
Luckily, however, Shred Nations can solve your problem with the help of our safe and convenient mobile shredding truck services. Shred Nations San Francisco can send a secure mobile shred truck, safely destroying your documents on site while you watch.
No matter if you're near the North Beach or located as far south as San Mateo, Shred Nations covers the entire San Francisco Bay area. Our shred trucks make document destruction safe and convenient. Protecting your company and its customers without requiring a major investment of your time.
There are some old records and documents you simply cannot afford to risk throwing out, ranging from old checks to medical images or legal documents—and everywhere in between. Don't take the chance of a data breach when a safe and affordable mobile shredding solution is just a call away.
How Mobile Shredding Works in San Francisco
The following steps provide a brief outline of Shred Nations San Francisco's mobile shredding process:
To begin the process, first give us a call at (415) 349-5221, or simply fill out the form to receive a free estimate for your shredding project. Our friendly and experienced staff can assist you in finding the best San Francisco shredding company to suit your needs. Our staff can also answer any questions you may have. Within minutes, mobile shredding contractors will be in touch offering competing for quotes on your project.
With your offers in hand, select the company that will best match your requirements. When they arrive on site, they will provide your business with secure, locking shred containers for you to store your documents that need shredding.
Once your shredding bins are full, the self-contained mobile truck shreds the documents while you watch. Afterward, one of our drivers can continue to make regular stops at your business to shred your sensitive documents.
With your confidential information now safely shredded by one of our uniformed mobile shredding truck drivers—who never come into contact with your securely locked documents— you are then given an official certificate of destruction, guaranteeing the proper destruction of your records.

All Mobile Shredding Trucks in San Francisco are Secure
When it comes to our mobile shredding services and trucks, Shred Nations San Francisco places the safety and security of our customers and their sensitive information as our top priority.
We strive to ensure the protection of our customers' own employees, clients, and reputation through our reliable on-site shredding services. We also provide our customers with an official certificate of destruction after completion of service.
This goes one extra step to give our clients the assurance they deserve by guaranteeing that all shredding performed by our services complies with all California and federal laws like HIPAA and FACTA. To truly ensure all your bases are covered, we also recommend to all our customers that their on site shredding company of choice is additionally NAID AAA Certified.
NAID has laid out strict and high-standard guidelines on document shredding safety. Any company who is compliant with their standards is certain to handle your documents with the utmost of security.
General Cost of a San Francisco Mobile Document Destruction Project
Cost is always an important factor when making business decisions. To exemplify this, let's quickly just compare the differences in price between using a mobile shredding truck in the San Francisco Bay area, and using one of Shred Nations San Francisco's drop off shredding locations.
Generally speaking, costs for mobile shredding truck services tend to start around $100 per visit from a shred truck to your San Francisco location. On the other hand, taking your materials to one of Shred Nations San Francisco's drop off shredding locations will generally run around $2 per pound of materials needing shredding.
If you had around two 30-pound boxes of documents, the final cost of either using a mobile shredding service or taking your materials to a Shred Nations San Francisco drop off location would be about the same.
If instead, you had three 30-pound boxes, or more, mobile or offsite shredding service is the economical solution. It saves you time and money of transporting your documents to a drop off sites.
Despite this though, the location of your own home or business should not be discounted in your decision-making process. For locations that are on the city outskirts, the prices of a mobile shredding service may be slightly higher.
Get Free, No-Obligation Quotes on San Francisco Mobile Shredding Services
In need of a simple document shredding solution for your business? Shred Nations San Francisco provides mobile document shredding services all throughout the densely populated San Francisco Bay area. To learn more about our mobile shredding options, simply give us a call at (415) 349-5221, or just fill out the form!
We can offer you different pricing and service options to choose from. This ensures you're able to meet your shredding project requirements. Our available services are designed to best suit your business' needs, and include:
After a few minutes we will contact you, providing free quotes from the top San Francisco shredding contractors. We're ready to help you to get your shredding project scheduled and completed as soon as possible.
Shred Nations San Francisco Location
Shred Nations San Francisco
584 Castro St San Francisco, CA 94114
(415) 349-5221
Email: san-francisco@shrednations.com
Our normal operating hours are Monday–Friday from 9:00 AM to 6:00 PM, and Saturday from 9:00 AM to 5:00 PM
Shred Nations proudly serves these cities in the San Francisco area:
Alameda | Antioch | Berkeley | Concord | Daly City | El Cerrito | Fairfield | Fremont | Fresno | Hayward | Mill Valley | Milpitas | Modesto | Napa | Newark | Oakland | Palo Alto | Petaluma | Pleasanton | Richmond | San Francisco | San Jose | San Leandro | San Mateo | San Rafael | Santa Clara | Santa Rosa | South San Francisco | Stockton | Sunnyvale | Vallejo | Walnut Creek
Additional Mobile Shredding Resources
Pricing for Mobile vs. Drop-Off Shipping—Learn more about the differences and pricing for a mobile shredder coming to your door as opposed to dropping off your documents at a shredding company.
Ten Myths About Document Shredding—This article clarifies several top myths and assumptions out there about shredding companies, their benefits, and their drawbacks.
Five Reasons for Switching to Mobile Shredding—Get a summary of the top advantages of utilizing the mobile shredding services available from Shred Nations San Francisco.