San Francisco Electronic Media Destruction Services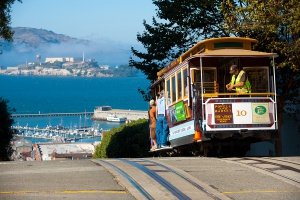 Have a drawer full of old CDs, DVDs, and even older floppies? Is there an ancient computer in the closet corner that could use a dusting—or two?
Think twice before you haul them out to the trash heap.
With the right software, even an old hard drive that has been erased can contain recoverable information for data thieves to plunder. Luckily, there is no software capable of extracting your sensitive information from a hard drive that has been shredded.
With Shred Nations San Francisco's electronic media destruction service options, you can ensure that your electronic media is safely and securely destroyed. A few top examples of the digital media you should consider destroying include:
Computer Hard Drives
Portable Thumb or Flash Drives
CDs and DVDs
X-Rays and Medical Records
Credit and Debit Cards
We can match your needs, whatever they may be. Offering computer hard drive shredding, product destruction, and general electronic media destruction, Shred Nations San Francisco covers all of the San Francisco Bay area and surrounding cities. From Oakland to Daly City and everywhere in between, we've got you covered.
How the San Francisco Electronic Media Destruction Process Works
Begin the destruction process by simply giving us a call at (415) 349-5221, or filling out the form to your right to get a free quote. Within minutes electronic media destruction specialists in the San Francisco Bay area will contact you with competing offers.
Once your project is scheduled, your contractor will come to you to collect your materials. You can also ship your electronic media to a secure shredding facility for destruction.
Once your electronic media has been collected, it transported and fully destroyed at a secure destruction facility in San Francisco. After the destruction process is wholly complete, the shredded bits of digital media are separated into component parts before being recycled.

Are San Francisco Electronic Data Destruction Companies and Services Secure?
Given the recent headlines regarding digital media and the National Security Agency or Department of Defense, strict laws and regulations have been imposed on the handling of electronic media destruction to ensure that compliant media destruction companies are handling sensitive materials with safety and security.
As a guarantee that your electronic media destruction company of choice is compliant with this federal regulation, you are given an official certificate of destruction following the completion of your destruction project.
Average Cost of Electronic Media Destruction in San Francisco, CA
While there are several factors which ultimately decide the cost of your electronic media destruction project, the primary consideration to keep in mind the overall amount of media you will need to be destroyed. Generally speaking, the more needing shredding, the greater the cost of service, although consumers should note that the greater the project size, the lower the price per unit destroyed will be.
Besides the size of your electronic media destruction project, the type of materials that require destruction also play a part in the overall cost of your project. Certain, potentially larger pieces of media require more work or materials to fully destroy and ensure that your protected information will remain entirely secure.
For more information on the potential cost of your electronic media destruction project, Shred Nations San Francisco will provide you with free quotes by either simply filling out the form to your right, or just giving us a call at (415) 349-5221 today.
Hard Drive Destruction
Confidential information can be stored on hard drive, and, if not destroyed properly, the data can be recovered. It is important to take the necessary steps to protect your vital information from potential theft or being hacked.
Additionally, there are laws and regulations (such as HIPAA and FACTA) that need to be upheld during certain practices. Trained professionals handle hard drive destruction carefully to ensure that services are secure, affordable, and confidential.
Get Free, No-Obligation Quotes on Electronic Media Destruction in San Francisco
Electronic media destruction services from Shred Nations San Francisco are available all throughout the San Francisco Bay area. If you have old digital media that's beginning to gather dust or take up space in your San Francisco home or office, consider giving Shred Nations a call for a free estimate on an electronic media destruction project by either simply filling out the form to your right, or just giving us a call at (415) 349-5221 today!
Within minutes of receiving your request, our shredding professionals will contact you, providing free quotes for the top San Francisco electronic media destruction specialists near you. They can help to assist with any questions you may have still about our shredding process, and well as begin with getting your service scheduled and completed as quickly as possible.
Get your FREE, no-obligation quote within minutes when you call (415) 349-5221 or fill out the form to the right.
Shred Nations San Francisco Location
Shred Nations San Francisco
584 Castro St
San Francisco, CA 94114
(415) 349-5221
Email: san-francisco@shrednations.com
Our normal operating hours are Monday–Friday from 9:00 AM to 6:00 PM, and Saturday from 9:00 AM to 5:00 PM
Shred Nations also proudly offers our shredding services to the following cities throughout the San Francisco Bay area:
Oakland | San Francisco | Berkeley | Daly City | San Leandro | Hayward | Walnut Creek | Concord | Richmond | San Rafael | Mill Valley | Vallejo | Antioch | Fremont | Pleasanton | Newark | San Mateo | South San Francisco | Palo Alto | Sunnyvale | Santa Clara | San Jose | Milpitas | Newark | Stockton | Modesto | Fairfield | Napa | Petaluma | Santa Rosa | Fresno
Additional Electronic Media Destruction Resources
Three Reasons Hard Drive Shredding is a Good Idea—Learn about why shredding a hard drive is critical to protecting your business.
Degaussing a Hard Drive vs Erasing—The only way to ensure your data is completely erased is to degauss it. This ensures that your company's proprietary and confidential information is completely unrecoverable.
Why Electronic Media Destruction is Critical for Your Business—Learn why it is important to dispose of equipment properly once it has been retired from use through secure electronic media destruction.