Shred Nations Santa Barbara Location
Shred Nations Santa Barbara

3463 State St

Santa Barbara, CA 93105

(805) 259-3296 santa-barbara@shrednations.com Hours:

M-F 9:00-5:30

Sat 9:30-12:30

Sun closed

Pricing:

$0.89 per pound

* Pricing is not guaranteed and is subject to change by the individual merchant






Location Highlights
Santa Barbara's #1 Shredding Service. Drop off or watch shredding be done at our location on Upper State Street.


Paper Shredding Services in Santa Barbara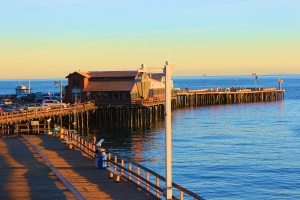 A tourist destination, Santa Barbara is full of Spanish history dating back to the mid-1700's. This rich town is full of exciting activities that attract tourists and keeps residents occupied the year long.
Residents can take a stroll down the beach, explore Spanish architecture, or relax at many of Santa Barbara's outdoor recreational areas.
With such a large and busy town, Shred Nations has partnered with local contractors to help keep the residents identify and personal information safe by offering different types of shredding solutions.
Our local contractors are qualified and reliable. They care about your security and want to protect it as much as you do. The best way to protect your information is by shredding it, so give us a call today for free quotes on shredding services in Santa Barbara.
Shredding Service Options in Santa Barbara
If you are worried about your documents getting lost while transporting them to a drop off shredding facility, or if you don't have the time to take them then mobile shredding is for you. Mobile shredding sets you up with a contractor who will come directly to your location with a shred truck and shred onsite while you watch.
If you or your business has a large amount of shredding to complete it is more cost effective and time effective to purchase offsite shredding. A local contractor will provide you with locked bins to store your documents in, when it is full they will take these bins to a secure facility for industrial shredding.
Paper documents are not the only source that can contain sensitive personal information. Personal data can also be stored in electronic devices such as hard drives and laptops. To ensure that the data is completely gone from the electronic media it is best to properly destroy it.
At Shred Nations we can schedule the following services for the length of time you need it including:
To find out more about these shredding services in Santa Barbara, call Shred Nations at (805) 259-3296 or fill out the form to receive FREE quotes.
California's Information Security Laws
California Breach Notification Bill (AB-1710) – This Californian bill expands upon existing laws that protect the personal information of California residents.
California Shredding Law (California Assembly Bill 2246) – This Californian law helps protect consumers from identity theft because it requires that businesses must destroy customer or tenant records to make them unreadable or indecipherable.
Get Free, No Obligation Quotes on Shredding Services in Santa Barbara, CA
Shredding is the best way to properly dispose of paper and electronics that contain personal data. To begin destroying these items give Shred Nations a call at (805) 259-3296 or fill out the form. We will be in contact with you shortly to offer you quotes from several local contractors.
Our contractors are equipped and ready to tackle any size or frequency shredding job that you may have. Our shredding services are very affordable and will meet your budget. Please contact us if you have any questions, we are here to help!
Shred Nations proudly serves these cities throughout the Santa Barbara area: :
Belair | Campanil | Capitan | Cielito | East Beach | Goleta | Hitchcock | Isla Vista | Milpas | Montecito | Oxnard | Samarkand | Summerland | Thousand Oaks | Toro Canyon | Waterfront | West Mesa | Ventura