Onsite Document Shredding Services in Sandy Springs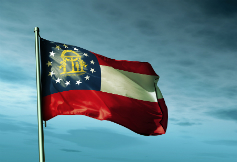 If you have mountains of paperwork to shred, attempting to complete the shredding project yourself will take hours of time and use up valuable money and resources.
Rather than attack such a large project on your own, partner with a shredding service provider who has the equipment and tools to get your job done quickly, safely, and affordably.
Shred Nations partners with shredding companies in Sandy Springs who offer a variety of shredding services, and specialize in making your shredding experience simple and easy. They can send a shredding truck equipped with a shredder right to your location in Sandy Springs and shred your materials while you watch.
If you value convenience above all else, mobile shredding services will exceed all your expectations.
How Mobile Shredding Works in Sandy Springs, GA
Mobile, also known as onsite, shredding is a secure, simple process. Here are the steps that will be taken when you request onsite document shredding in Sandy Springs:
Before you start your shredding project, call us at (678) 666-1338 or fill out the form and we will get you several quoted options on the services you are interested in.
Choose the shredding service option that works best for your project and budget and your new provider will send you locking shredding bins to collect your items in.
When your collection bins are full, call your provider and they will drive out to your location in a truck with a shredder right in the back. They will haul your bins to the truck, and feed them into the shredder right before your eyes.
Once your documents are completely shredded, you will be given a certificate of destruction, ensuring your shredding process was completed thoroughly and in accordance with all federal and Georgia state laws. The truck will then drive away with the mess contained in the back, and your project is complete!
Is Onsite Shredding Secure in Northern Georgia?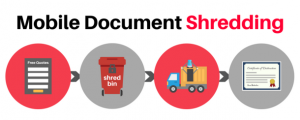 The onsite shredding process is the only service option that allows you to watch the entire shredding process, which adds an extra layer of security. To be extra safe, we encourage you to ask your shredding provider if they are NAID AAA Certified. This certification holds shredding companies to extremely strict standards, and if your company is certified, you can expect the absolute highest quality of service.
How Much Does Fulton County Mobile Shredding Cost?
Mobile shredding is an affordable option if you have over 80 pounds of paperwork to shred. Compared to drop off locations, which charge by the pound at an average of $1 per pound, mobile shredding becomes more economical as your volume to shred grows.
Mobile shredding costs on average $85 per visit, but there are also savings due to the convenience of the service. The truck drives right to your doorstep, and the shredding company employees do all the work for you.
If you have less than 80 pounds of paper, you may choose to visit one of several drop off centers located in Fulton County, just remember you will be responsible for packaging and hauling your paperwork to the center yourself.
Get Free, No Obligation Quotes on Onsite Document Destruction Services in Sandy Springs
If you are considering a mobile shredding service for your home or business, call Shred Nations Sandy Springs at (678) 666-1338 or fill out the form. We will get you several FREE quotes before you commit to a service plan, so you know you are getting the best service at the best price.
Our network partners in Sandy Springs are qualified and have the tools and equipment to get your job done quickly and safely. When it comes to your family, employees, and customers, it's better to be safe than sorry. Start your shredding project today!
Shred Nations Sandy Springs Location
Shred Nations Sandy Springs
8343 Roswell Rd
Sandy Springs, GA 30350
(678) 666-1338
Email: sandy-springs@shrednations.com
Our normal business hours are Monday-Friday 9:00 AM to 7:00 PM and Saturday 10:00 AM to 6:00 PM.
Shred Nations is proud to serve Sandy Springs and these nearby cities in Georgia:
Alpharetta | Atlanta | Brookhaven | Duluth | Embry Hills | Kennesaw | Kirkwood |  Lawrenceville | Lilburn | Macon | Marietta | Norcross | Roswell | Sandy Plains | Smyrna | Southern Oaks | Suwanee | Tucker | Vinings | Westfield | Woodstock