San Diego Mobile Shredding Services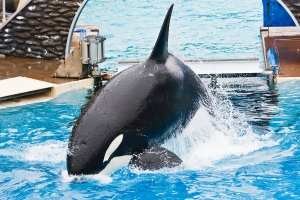 Imagine the number of papers, documents, and other files that have piled up around your San Diego home or business over the last year—let alone the last decade.
With all of this information lying around, the odds of identity theft increase exponentially, as each old or unnecessary document poses a greater chance of it falling into the wrong hands.
While the implication and possible cost of gathering, boxing, and transporting countless documents can make your head spin, mobile shredding services can help to relieve your headaches.
Using mobile shredding services you can enjoy the convenience of a secure mobile shredding truck visiting your home or office no matter where you are located in the San Diego Bay area.
To get started, give Shred Nations San Diego a call at (619) 344-0372, and we'll help you start the process of stopping a potential security disaster today!
How the San Diego Mobile Shredding Process Works
Here's a brief overview of the steps to our Mobile Shredding Services in San Diego:
To begin, simply fill out the form to request a quote and get a free estimate on a mobile shredding project, or just give us a call at (619) 344-0372. Our friendly and knowledgeable shredding experts will help to guide you through any questions you may have, and can quickly match your needs with the best shredding companies in San Diego.
Choose the mobile shredding company that fulfills your requirements. If you need ongoing services, they will provide safe and secure shredding bins which can be used to hold and transport your documents.
A driver will come out to your home or business and shred your documents on-site, no matter your location.
Professional shredding truck operators will shred and compact your documents at the rear of the truck—and don't worry, employees never make physical or visual contact with your shredded materials, as they are secured in locked shred bins.
Once the mobile shredding project is complete, you are presented with a certificate of destruction, guaranteeing that the shredding job has been finished safely and securely.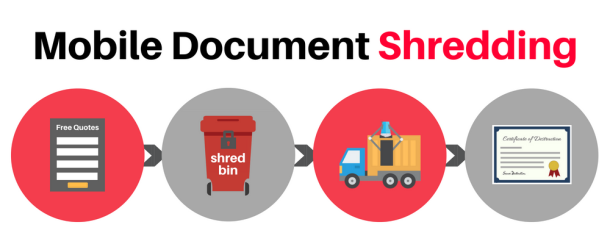 Every Mobile Shredding Truck in San Diego is Secure
Security and the protection of our customer's sensitive information is a top priority. With mobile shredding, you can get peace of mind while you watch your confidential documents shredded on site by a self-contained shredding truck.
After you see your business records and documents destroyed right before your eyes, you are provided a certificate of destruction which guarantees that the shredding you just witnessed complies with all federal and California shredding laws, including HIPAA and FACTA.
Besides obtaining an official certificate of destruction, it's also recommended that you ensure your shredding company is NAID AAA Certified. In addition to compliance with state and federal shredding legislation, high-security standards mandated by NAID also ensure that shredding contractors are trustworthy and reliable.
Approximate Cost of a San Diego Mobile Shredding Project
No matter what business you are in, one factor in every decision remains constant—cost.
On average it costs around $130 per visit from a mobile shredding truck, while drop off shredding generally runs about $1 per pound of paper.
Generally speaking, we suggest that any shredding project that is four boxes or more be handled by a mobile shredding service—it not only makes economic sense, but makes your life easier as well.
Get Free Quotes on Mobile Shredding Services in San Diego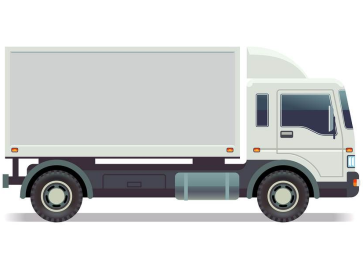 Shred Nations San Diego can provide safe and convenient document shredding service options throughout the San Diego Bay area and its suburbs.
If you are in need of a simple shredding solution today, just give Shred Nations San Diego a call at (619) 344-0372, or fill out the form to request a free quote. Safe and secure document shredding services include:
Within moments of receiving and processing your request, Shred Nations San Diego will in turn send you fast and free estimates for San Diego shredding contractors in your area who can schedule and complete your mobile shredding project as quickly as possible.
Shred Nations San Diego Location
Shred Nations San Diego
3960 W Point Loma Blvd #H
San Diego, CA 92110
(619) 344-0372
san-diego@shrednations.com
Our normal operating hours are Monday–Friday from 8:30AM to 6:00PM, and Saturday from 9:00AM to 4:00PM
Shred Nations proudly serves these cities throughout San Diego and surrounding areas:
Alpine | Bonita | Camp Pendleton | Cardiff-by-the-Sea | Carlsbad | Carmel Valley | Del Mar | El Cajon | Escondido | La Jolla | La Mesa | Mission Valley | Pacific Beach | San Marcos | Santee | Solana Beach | Sorrento Mesa | Spring Valley
Additional Mobile Shredding Resources
How Much Does Mobile Shredding Cost?—A more in-depth look at the cost of using mobile shredding services from Shred Nations San Diego.
How Does Mobile Shredding Work?—This article can provide an in-depth breakdown of how Shred Nations' mobile shredding services work.
Pricing for Mobile vs. Drop-Off Shipping—A breakdown of the differences in cost for a mobile shredding service coming to you as opposed to taking your documents to a drop off shredding location.