Offsite and Pickup Shredding Service in Pittsburgh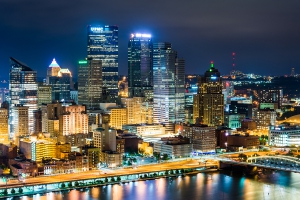 Offsite shredding is one of the easiest ways to quickly shred large volumes of documents. Shred Nations Pittsburgh offers secure offsite shredding that will send a truck to your location to pick up your documents and shred them at an offsite facility. This process is best when you have large amounts of paperwork (15 boxes or more). Shred Nations Pittsburgh can send you several free quotes on local shredders in the Pittsburgh area. When companies compete for your business, you win.
Let us help you get your shredding project started off on the right foot. We will find you the best price, and we can even set up scheduled service for weekly, bi-weekly or monthly ongoing service. To get started just give us a call at (412) 573-4337.
Offsite Shredding Steps in Pittsburgh and Surrounding Areas
Here are the steps our professionals in Pittsburgh will take when you request offsite shredding services:
Start your project by calling us at (412) 573-4337 or fill out the form for free quotes on nearby shredding services in the Pittsburgh metro area. We will quickly reach out to our local contractors and get you several quotes for your project.
You choose the quote from the Pittsburgh shredding company that best suits your project and budget requirements. They will send you locked shredding bins.
You fill up the bins with your paperwork, and they send a secure truck to pick up the bins and transport them to a guarded facility in Pittsburgh for shredding.
The bins containing your files are lifted up onto the shredder and the contents are dumped into the machine where the shredded bits mix with those of thousands of other documents. You are sent a certificate of destruction confirming the process complied with all federal and Pennsylvania laws, and the bits are recycled.
How Secure is Offsite Shredding in Pittsburgh?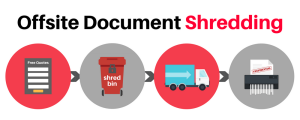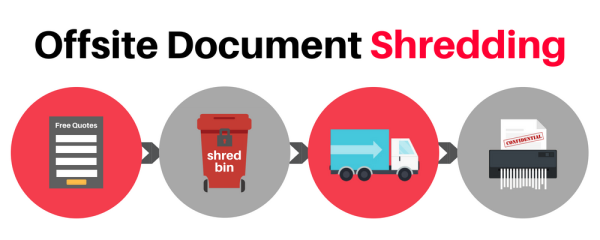 Shred Nations Pittsburgh understands the importance of protecting your personal and private business information. You should always make sure to double check and confirm that your shredding company is NAID AAA Certified. NAID sets high standards, and any shredding company with their certification will deliver high quality, secure results.
How Much Does Offsite Shredding Cost in Pittsburgh?
High volume shredding projects are much cheaper when you send your documents offsite vs. using a mobile shredding service. Offsite prices average in at about $85 for a decent amount of shredding, while onsite services in Pittsburgh tend to cost around $100 per visit. At high volumes, drop-off shredding quickly becomes too expensive, with prices in Pittsburgh averaging at about $1 per pound. Plus, with this type of service, the responsibility of transporting your documents falls on you. Always consider how far you are from the shredding company you choose, and think about any special requests you may have. These factors can influence the price of your shredding project.
Get Free Quotes on Secure Offsite Shredding in Pittsburgh Today!
Do you need a way to destroy a large amount of paper in Pittsburgh or anywhere in the Pennsylvania area? Shred Nations Pittsburgh can connect you with secure offsite shredding services for companies or individuals. Within minutes, you'll get quotes from a local provider near you. To get started, give us a call at (412) 573-4337 or fill out the form—once we receive your request, shredding contractors will be in touch to complete your shredding project as quickly as possible.
Shred Nations Pittsburgh Location
Shred Nations Pittsburgh
12121 Frankstown Rd
Pittsburgh PA 15235
(412) 573-4337
Email: pittsburgh@shrednations.com
Our normal business hours are Monday through Friday from 9:00 AM to 7:00 PM and Saturday from 10:00 AM to 4:00 PM.
Shred Nations proudly serves these cities throughout Pennsylvania and the Pittsburgh metro area:
Baldwin | Bethel Park | Brentwood | Dormont | Franklin Park | Lower Burrell | Mount Lebanon | Munhall | Neville Township | New Kensington | North Versailles | Plum | Swissvale | West Mifflin | Wilkinsburg