Philadelphia Hard Drive Destruction Services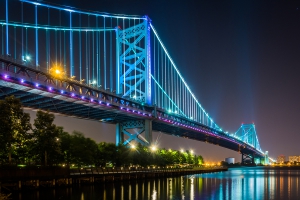 If you're looking to get rid of your old electronic device, it is important to think about what type of information may be saved to it. Even if you've only had it for a day, there is still the possibility of someone hacking into your device to obtain information from it.
So if you just delete all of your data from the device then you'll be safe, right? Actually, this is a dangerous risk to take. With fraud and identity theft becoming more and more prominent these days, it is important to make sure that there is no way for someone to recover any confidential information from the electronics you no longer need.
If hard drives are not properly destroyed, the data can still be recovered off of them. It is critical to protect confidential information from potential thieves and hackers. In order to protect your information, hard drives need to be completely destroyed by trained professionals.
Hard drive destruction is the best way to ensure your information is irretrievable from your old devices. Not even the smartest technological genius would be able to recover data from a device that has been turned into shreds.
Are you ready to replace your old electronics? Shred Nations wants to help you find the right hard drive destruction service for your needs.
Whether you're looking to destroy CDs, DVDs, hard drives, microfiche, fax machines, computers, or any other type of electronic device, we have a solution for you. We offer electronic data disposal services to anyone in the Philadelphia area.
Hard drive destruction services offer:
Complete destruction
Low cost services
Compliant practices (such as HIPAA and FACTA)
Certificate of destruction
Our secure partners are ready to assist in protecting your information through hard drive destruction.
Hard Drive Destruction Steps
Ready to find the right destruction service for you, but not sure where to go from here? Follow these steps in the hard drive destruction process:
To get connected with shredding contractors in the Philadelphia area, simply fill out the form or give us a call at (215) 613-4104

. One of our experts will be able to answer your questions and help to find you the companies that best fit your needs.

Our contractors will contact you with free, personalized quotes

for your shredding project. Choose the company that you feel is the right option for you.

Would you like to drop off your devices

to a secure location to be shredded, have them picked up, or is it easiest for you to ship them? You are able to decide which option is most convenient for you.

Your hard drives will be sent through the shredder and recycled. You will receive a Certificate of Destruction

explaining the details of your service for each visit.
Security of Hard Drive Disposal Services
With the ever-growing threat of identity theft, it is more important than ever to ensure the protection of your confidential information. One small mistake could lead to the failure of yours, or your business's, reputation. Here at Shred Nations, we understand the necessity of maintaining your reputation.
Our hard drive destruction contractors are required to abide by all federal and Pennsylvania state laws. Many of our contractors have also obtained a NAID AAA Certification, meaning that they follow an even more strict set of guidelines in the destruction process.
After each job is completed, you will receive a Certificate of Destruction describing the details of your service. This serves as physical evidence of the security and completion of your shredding project.
Estimated Cost of Hard Drive Destruction in Philadelphia
It is difficult to approximate the cost of hard drive destruction. The cost is dependent not only on the volume of devices you are looking to dispose of but on the type of devices you have as well. However, you are able to save money with a larger volume of devices.
The more devices you have, the less you pay per unit. For a more specific, personalized quote on hard drive disposal services in the Philadelphia area, simply fill out the form or give us a call at (215) 613-4104.
Call Now and Receive Your Free Quote on Hard Drive Destruction Services Today!
No matter what type of device(s) you need to destroy, Shred Nations has a solution for you. We can accommodate anything from a small CD to an entire computer.
Just give us a call at (215) 613-4104 or fill out the form. Our experts are prepared to answer any of your questions and will be able to connect you with the best hard s drive destruction contractors in the Philadelphia area.
Shred Nations Philadelphia Location
Shred Nations Philadelphia
702 N 3rd St
Philadelphia, PA 19123
(215) 613-4104
Email: philadelphia@shrednations.com
Our normal operating hours are:
Monday–Friday from 8:30 AM to 6:30 PM
Saturday from 9:00 AM to 3:00 PM EST.
Shred Nations proudly serves these cities throughout the Philadelphia area:
Alexandria | Allentown | Bethlehem | Hazelton | Harrisburg | Lancaster | Lansdale | Lebanon | Media | Middletown | Paoli | Springfield | West Chester