Hard Drive Destruction in Manchester, NH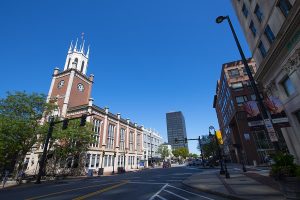 Hard drives contain tons of confidential information inside, and it doesn't just erase data. When hard drives are not correctly destroyed, the information inside can still be recovered. This is why hard drive shredding is critical for electronic protection.
When a company experiences a data breach, it could be devastating, but, if you properly destroy your electronic media, which includes hard drives, DVD's, CD's, and computers you can eliminate this risk. Sometimes even after you think digital information on computers and even fax machines have been erased the information can still be accessed.
Properly destroying your electronic devices can prevent a damaging data breach. By either shredding or destroying electronic devices that can contain sensitive information with an hard drive destruction provider, you can help get rid of the chance of a severe data breach.
Luckily, Shred Nations offers multiple electronic media destruction companies in Manchester that use safe and secure processes to make sure that all of your personal and financial information is completely destroyed. Electronic media includes anything that may hold personal information, including:
Credit cards and debit cards
X-rays
CD's and DVD's
Thumb/Jump drives
Hard drives (including solid state, rotational, and magnetic)
Badges
Microfilms and microfiches
Media/ backup tapes
Steps in the Hard Drive Destruction Process in Manchester
Start by filling out the form or giving us a call at (603) 374-7024 to submit a request for a quote. Momentarily, hard drive destruction companies across Manchester will give you free quotes.
Shred Nation's contractors in Manchester allow many ways to receive your electronics for destruction such as picking up your devices at your location, bringing your electronics to a secure drop-off location or you can even ship your devices to a safe facility to be destroyed.
After the devices are completely destroyed at the contractor's secure location, the remains of your destroyed electronics are safely recycled.

Get Free, No-Obligation Quotes on Hard Drive Destruction in Manchester, NH
Shred Nations Manchester offers electronic media and hard drive destruction in New England. To get started, give our experts a call at (603) 374-7024 and we will help you find the right mobile shredding service in New Hampshire that fits your needs.
Shred Nations Manchester Location
Shred Nations Manchester
373 S Willow St Manchester, NH 03103
(603) 374-7024
Email: manchester@shrednations.com
Our normal business hours are Monday through Friday from 8:30 AM – 7:00 PM and Saturday from 9:00 AM – 2:30 PM.
Further Information on Hard Drive Destruction
Computer recycling – Check out this link to learn more about why it is important to have your computers properly destroyed.
The rise of electronic recycling – Click on this link to find out more about the growth of e-waste and what e-waste is.
Retiring old office equipment – Try this link to learn about the policies in place to safely recycle your electronic devices.
Shred Nations proudly serves these cities near Manchester and throughout New Hampshire:
Auburn | Bedford| Brentwood | Boston | Cambridge | Candia | Concord | Deerfield | Durham | Goffstown | Haverhill | Nashua | New Boston  | Pembroke | Portsmouth | Salem | Worcester