Onsite Shredding Services in Los Angeles, CA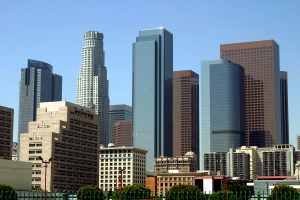 No one wants the hassle of transporting all those boxes anywhere to be shredded or worry about internal theft if you shred them yourself. That's where mobile shredding helps you solve the problem.
There's a greater chance that an identity thief or corporate spy will get a hold of your company's confidential information when you don't shred your documents properly.
There's also Federal and State laws that levy heavy fines if personal information is leaked by your company. Shred Nations Los Angeles can send a mobile shredding truck to your office or home, anywhere in Los Angeles County.
Mobile shredding removes all the hassle that comes with bringing your records to a drop off location and protects your business and your customers from identity theft.
How Mobile Shredding Works at Shred Nations Los Angeles
Here's a quick overview of the steps our Los Angeles Mobile Shredding companies provide service for your shredding project:
First, you need quotes for your mobile shredding project. To get started, fill out the form or give us a call at (213) 342-4976. We'll connect you with a mobile shredding company in your area that can help you with your onsite shredding. In minutes, we will be in touch with you with quotes for your project.
You select the shredding company that fits your project and budget and they'll provide locked bins to store the documents you need to shred.
When they're full, the shredding company will schedule a time to have a mobile shredding truck come to your location anywhere in LA to shred your documents while you watch.
Once the mobile truck shreds all your documents safely and securely they'll provide you with a certificate of destruction that ensures the documents were destroyed properly. Our contractors and drivers never come in contact with your documents during, before, or after they're shredded.

How Secure is Mobile Document Shredding in Los Angeles?
Security is tremendously important—especially if you're having your documents shredded by a 3rd party. Shred Nations Los Angeles helps protect your confidential information by eliminating the chance of your documents being misplaced during transport. A mobile shredding company will also provide a certificate of destruction for every project to ensure you comply with federal and California laws—including FACTA and HIPAA.
How Much Does Mobile Shredding Service Cost in Los Angeles?
The industry average for a mobile shredding truck come to your office is around $100 or more depending on where you're located in Los Angeles. If you choose to drop off your documents to be shredded, you're looking at about $1 per pound. If you have 3 or fewer boxes of paper, we recommend using one of our drop-off solutions.
If you have four boxes or more, consider utilizing mobile shredding—it saves you the time and hassle of transporting heavy boxes offsite, and can save you money on larger shredding projects. Don't forget where your place of business or residence is located, the closer you are to the shredding company, the better the chance that your project will cost a little bit less.
Get Free Quotes on Secure Mobile Shredding Services in Los Angeles
For free quotes on mobile shredding service for your files in Los Angeles, give us a call at (213) 342-4976 or fill out the form. We offer secure mobile document shredding services throughout Los Angeles and Southern California. When businesses compete for your project, you win.
Within a few minutes of receiving your request, we'll be in contact with free quotes from a mobile shredding companies located in Los Angeles that can schedule your project quickly with multiple pricing options. We can help you with service whenever you need it, including:
Shred Nations Los Angeles Location
Shred Nations Los Angeles
225 E 12th St
Los Angeles, CA 90015
(213) 342-4976
Email: los-angeles@shrednations.com
Our normal business hours are Monday—Friday from 9:00 AM to 8:00 PM, and Saturday 9:00 AM to 5:00 PM
Shred Nations proudly serves these cities throughout the Los Angeles and Southern California:
Aliso Viejo | Anaheim | Auzsa | Beverly Hills | Carson | Costa Mesa | Dana Point | Encino | Fontana | Glendale | Granada Hills | Huntington Beach | Irvine | La Habra | Laguna Beach | Lake Forest | Long Beach | Los Alamitos | Mission Viejo | Newport Beach | Orange | Oxnard | Pasadena | Redondo Beach | Riverside | San Clemente | San Juan Capistrano | San Marino | Santa Ana | Santa Clarita | Santa Monica | Seal Beach | Simi Valley | Thousand Oaks | Torrance | Ventura | West Covina | Whittier