Mobile Shredding Services Throughout Ft. Lauderdale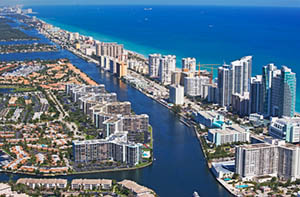 The Fort Lauderdale mobile shredding service provided by Shred Nations provides a completely secure and convenient solution for organizations and residents of Ft. Lauderdale and surrounding areas.
Ft. Lauderdale mobile shredding is the choice solution because there is virtually no effort required by stakeholders and individuals.
What are the Steps in Shred Nations Fort Lauderdale's Mobile Shredding Process?
Fort Lauderdale mobile shredding is simple. First, we place locked shredding bins throughout your office so that employees of your organization have a secure place to store the documents until shredding occurs. The shredding bins accumulate documents for a specified time period.
Typically this time period is weekly, bi-weekly, monthly or quarterly. Our driver comes on the regularly scheduled time and retrieves each bin. Once the bin is retrieved, our trained and background checked technician takes the bin down to our state of the art shredding truck.
The bin is placed in a secure chute that is built into the side of the truck. Once secure, the bin is unlocked and the contents lifted through the chute into the shredder. Finally, the shredded pieces of paper are saved in the rear of the truck for drop off at a paper mill later.
What Security Measures are taken in our Ft. Lauderdale Mobile Shredding Service?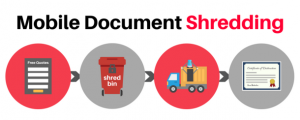 The security of documents is of the utmost importance when it comes to our Fort Lauderdale mobile shredding service. We take personal information and destroying that information very seriously. To start, all of our document collection bins are locked and secured and only our trained, certified and background checked shredding technicians are able to unlock them.
We also allow all of our mobile shredding processes be witnessed from start to finish. Once the documents are shredded in our of our Fort Lauderdale cross cut mobile shredding trucks it is transported to one of our paper facilities to be recycled.
How Much Does Mobile Shredding Cost in Ft. Lauderdale?
Ft. Lauderdale shredding costs generally vary depending on the volume of shredding that needs to be completed on a certain project. As a general rule, plant bases shredding prices. Following plant-based shredding would be mobile shredding. Mobile shredding generally costs between $100 and $150 for up to 10 boxes or 300 pounds.
Finally, the most expensive option is to use a Ft. Lauderdale drop off shredding service. Drop off shredding services is generally around $1.00 per pound and can be taken to a local Fort Lauderdale Shred Nations drop off partner.
Get Free Quotes on Fort Lauderdale Mobile Shredding Services
Shred Nations Ft. Lauderdale offers secure mobile shredding service. Do you need mobile shredding in Ft. Lauderdale? Give us a call at (954) 417-6111 or fill out the form to the right. We will contact you within minutes of receiving your request with free quotes from the most secure and reliable Ft. Lauderdale shredding contractors to get your project scheduled. We will gladly answer any questions you may have about the mobile shredding process, and we do our best to contact you as quickly as possible.
Shred Nations Ft. Lauderdale Location
Shred Nations Ft. Lauderdale
2805 E Oakland Park Blvd
Fort Lauderdale, FL 33306
(954) 417-6111
Email: fort-lauderdale@shrednations.com
M-F 8:00-6:30
Sat 9:00-4:00
Sun closed
Shred Nations proudly serves these cities in and around Ft. Lauderdale:
Coconut Creek | Cooper City | Coral Springs | Dania | Dania Beach | Davie | Deerfield Beach | Hollywood | Miami Gardens / Broward Co. | Miramar | Parkland | Pompano Beach | Tamarac
Helpful Links on Mobile Shredding