Offsite Shredding Services in Cleveland, OH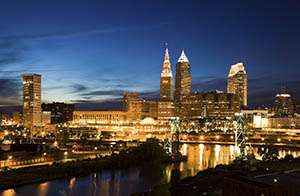 If you have a large amount of documents to shred and are looking for the most cost-effective way to get them shredded anywhere in Cleveland, offsite shredding may be the best option for you.
Our shredding partners in Cleveland and throughout Cuyahoga County will collect your documents in locked bins at your location and take them to a secure facility to be shredded and recycled.
By using large shredders that can handle thousands of sheets of paper an hour, our Cleveland contractors can provide you with shredding that eliminates some of the direct costs associated with mobile shredding or dropping off your documents to be shredded.
Shred Nations Cleveland offers offsite shredding for companies, home offices, and personal documents throughout the county, from Cleveland Heights to Lakewood. We can schedule times to pick up your documents to ensure that you adhere to your document management and destruction plan.
Steps in the Offsite Shredding Process in Cleveland
Offsite shredding ensures your paper is shredded quickly and securely. Here are the four basic steps that you need to take to have our Cleveland shredding partners pick up your documents.
Submit a quote request to us by filling out the form to the right, or call us at (216) 777-8829. Within minutes, shredding companies in Cleveland will contact you to provide a free quote for your project.
We pick up your documents that need to be shredded at your location. All documents are secured in locked bins that are provided for you.
The documents that you need shredded are transported in a secure truck to our secure Cleveland-based facility.
Cleveland Offsite Shredding is Very Secure
After we complete your shredding, our shredding company in Cuyahoga County will send you a FACTA and HIPAA compliant certificate of destruction. Before you select a shredding company, make sure to select a company that has a NAID AAA Certification so that you ensure that you're working with a company that adheres to strict hiring and procedural requirements.
Approximate Cost of Offsite Shredding in Cleveland
The cost of your offsite shredding services depend on the volume of paper that you need shredded. The more documents you have, the more likely that an offsite shredding service might be the most efficient and least expensive way to get them shredded.
Be sure to factor in where you're located. If you're centrally located in Cleveland, there's a good chance the cost will be cheaper than if you're on the outskirts of Brooklyn or Cleveland Heights. You should also factor in any extra steps involved with your project.
Travelling up flights of stairs, gathering bins from multiple locations, etc. increases the price incrementally. Be sure to clarify any additional requirements with your local shredding provider before you confirm an offsite shredding pickup.
Get Free, No-Obligation Quotes on Offsite Shredding Services in Cleveland
Shred Nations offers secure offsite shredding services in Cleveland. Do you need shredding service in Cleveland or Cuyahoga County? Give us a call at (216) 777-8829 or fill out the form to the right. Within a few minutes of receiving your request, you'll get free quotes secure and reliable Cleveland shredding contractors.
We'll gladly answer any questions you may have about the shredding process, and we do our best to contact you as quickly as possible.
Shred Nations Cleveland Location
Shred Nations Cleveland
16781 Chagrin Blvd
Cleveland, OH 44120
(216) 777-8829
Email: cleveland@shrednations.com
Our normal business hours are Monday – Friday from 9:00 AM to 7:00 PM, and Saturday from 9:00 AM to 5:00 PM Eastern Standard Time (EST).
Shred Nations Cleveland serves the following cities throughout Cleveland and the surrounding areas: Aurora, Brooklyn, Euclid, Fairview Park, Highland Heights, Independence, Middleburg Heights, Pepper Pike, Seven Hills, University Heights, Valley View and more!
Want more Info on Offsite Shredding? Check Out These Links!
Risks of In-House Shredding There are several things to consider when you choose to shred your documents in-house. Learn about the risks of in-house shredding.
How to Choose a Document Shredding Service Get tips and information on classifying your records, along with 10 questions you should ask before you hire an off-site shredding service (or any shredding company).
Should You Be Worried About Offsite Shredding? Off site shredding has some companies concerned- is it secure enough? What do they do with my documents? Learn more about why you don't need to be worried about offsite shredding.