Bremerton Mobile and Onsite Shredding Services
Any easy way to prevent identity theft is by hiring a professional mobile shredding service. Professional shredding takes this menial task out of your employees' hands and into the hands of highly-trained, information protection experts. Shred Nations Bremerton partners with certified and reliable shredding companies that offer convenient services for shredding projects of all sizes.
Mobile shredding is our most secure, easiest shredding service. We come directly to your location to shred your documents right at your curb. You will simply fill your provided shred bins with your documents and place them on the curb to be emptied. A mobile shred truck will lift your bins and dump them directly into the shredder.
You may witness the shredding process to ensure that your documents have been destroyed properly and return to your day within minutes. Schedule mobile shredding services for your home or business today by calling (360) 824-3775 or filling out the form. We will send you free, no obligation quotes on mobile shredding services right away.
The Cost of Mobile Shredding in Bremerton
Mobile shredding is budget-friendly and easy to use. The price will vary based on the size of your project, your location, and the frequency of service. For projects of 100 to 300 pounds of paper, you will save on the price per pound when compared to using a drop-off location.
Our frequency options can be scheduled to meet your shredding needs. We have options ranging from a one-time purge, to weekly or annual services. Contact us today to learn more.
Steps for Mobile Shredding in Bremerton
Mobile shredding can be completed in 4 easy steps:
Fill out the form or call us at (360) 824-3775 to receive free quotes and speak to a knowledgeable representative.

We will connect you with Bremerton-based providers that will assist you in your shredding needs.

Select a provider and schedule an appointment to have secure shred bins delivered to you.

 

Fill up your bins at your convenience and when you are ready, schedule a mobile shred truck to come directly to your location.

The mobile shred truck will shred the contents of your bins onsite, quickly and completely.  You will receive a certificate of destruction ensuring compliance with state laws and regulations.

 
Secure Mobile Shredding in Bremerton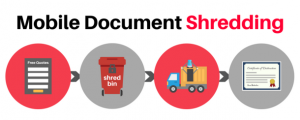 Mobile shredding is completely secure. Not only can you supervise the shredding process, but our Bremerton shredding partners are HIPAA and FACTA certified for your protection. We follow all federal and state privacy laws to keep you in compliance and maintain your confidentiality. 
For every shredding project, you will receive a certificate of destruction. A certificate of destruction can help protect your business in case of legal action or an audit. It will include details from each step of the shredding process; including chain of custody, witnesses, and a time stamp. 
If you have any questions or concerns about security, please do not hesitate to contact us.
Get Free Quotes on Mobile Shredding Services in Bremerton
Shred Nations is your one-stop shop for all things shredding. Call us today at (360) 824-3775 or fill out the form to request free quotes on shredding services for your home or business. We are happy to help you find a shredding service that is just right for your needs.
Shred Nations Bremerton Location
Shred Nations Bremerton
1405 NE Mc Williams Rd Ste 103
Bremerton, WA 98311
(360) 824-3775
email: bremerton@shrednations.com
Our operating hours are Monday-Friday from 8:30 AM to 5:30 PM and Saturdays 9:00 AM to 5:00 PM.
Shred Nations proudly serves these cities near the Bremerton area:
Bellevue | Burien | Des Moines | Edmonds | Esperance | Kirkland | Lake Forest Park | Mercer Island | Mountlake Terrace | Renton | SeaTac | Seattle | Shoreline | Tukwila | White Center