Bremerton Hard Drive Destruction Services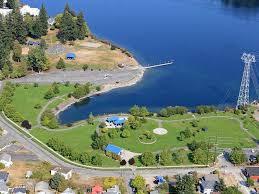 A hard drive is a small storage device that is common in computers and other devices. Hard drives can be as small as 4 gigabytes or as huge as several terabytes of data. Any time you download or save a file it is stored on your hard drive. Your bank account, social security number, and password logins are all saved to your hard drive.
Identity thieves can gain access to this information and use it to commit fraud, access your financials, and commit countless other crimes. When your hard drive runs out of storage space or gets old, you will need to protect the information stored within it. Throwing your hard drive away will put you at risk of your information being recovered. Even files that have been erased can be recovered and misused.
Hard drive destruction physically destroys your hard drive, making data recovery impossible. We carefully disassemble the components of your device and remove the hard drive. The hard drive is then run through a specialized shredder that uses 40,000 pounds of force. Your hard drive and data are reduced to tiny fragments, preserving your confidentiality.
Steps for Hard Drive Destruction in Bremerton
Hard drive destruction can be completed in 4 easy steps:
Fill out the form or call us at (360) 824-3775 to receive free quotes and speak to a knowledgeable representative.

We will connect you with Bremerton-based providers that will assist you in your destruction needs.

Select a provider and

choose between onsite, drop off, or direct shipment options to turn in your devices.

Once your devices are received, they will be destroyed properly. All remaining materials will be recycled.

You will receive a certificate of destruction ensuring compliance with state laws and regulations.

 
Secure Hard Drive Destruction in Bremerton
Data destruction with Shred Nations Bremerton is completed within the guidelines of the National Security Agency and the Department of Defense. Our trusted providers comply with all applicable privacy regulations and HIPAA and FACTA mandates.
We protect your devices by documenting the chain of custody from collection to destruction. Your devices will be scanned using barcode tracking at each touchpoint to create a verifiable trail. A copy of the chain of custody will be included on the certificate of destruction along with other important details from the destruction process.
The Cost of Hard Drive Destruction in Bremerton 
The price of hard drive destruction will vary based on your devices, the size of your project, and your location. Typically, the price per hard drive is no more than $20. To reduce the price per drive, we recommend stocking up on devices to dispose of together. The larger your project is, the lower the price per drive will be.
Get Free, No Hassle Quotes on Hard Drive Destruction Services in Bremerton
Safe disposal of your hard drives is easy and affordable with Shred Nations Bremerton. Prevent identity theft and protect your private information with our services today. Call us at (360) 824-3775 or fill out the form to begin the process and connect with local providers right away.
Shred Nations Bremerton Location
Shred Nations Bremerton
1405 NE McWilliams Rd Ste 103
Bremerton, WA 98311
(360) 824-3775
email: bremerton@shrednations.com
Our operating hours are Monday-Friday from 8:30 AM to 5:30 PM and Saturdays 9:00 AM to 5:00 PM.
Shred Nations proudly serves these cities near the Bremerton area:
Bellevue | Burien | Des Moines | Edmonds | Esperance | Kirkland | Lake Forest Park | Mercer Island | Mountlake Terrace | Renton | SeaTac | Seattle | Shoreline | Tukwila | White Center