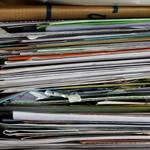 For thousands of homes across America, a top New Year's Resolution is to become more organized. This usually means sorting through old documents and papers to eliminate clutter. This annual clean out is a good idea to stay organized.
By the end of the cleaning project, most households have accumulated enough paper to fill a couple of boxes or bags. They consist of old bills, pay stubs, employment records, and other documents that contain personal or sensitive information. The question is how to shred everything that no longer is required.
While home shredders are great for a few sheets a day they are not designed to handle boxes worth of material. They have small throats and must cool down after several passes to avoid engine damage. The obvious solution is to call someone with a bigger shredder.
Each week, Shred Nations, a national shredding service, processes hundreds of calls from these homes who are trying to find the best way to shred their personal documents. The problem is that the shredding industry isn't set up to handle these small jobs. Their industrial shredders are designed to shred large commercial jobs.
A mobile shredding truck shreds over 5,000 pounds an hour. That equates to shredding 210 pounds of paper in one pass. While these industrial shredders are great for the dozens of boxes that a business needs shredded, it makes them inefficient for what a home collects. It takes longer to drive to the home than it does to shred. To cover their driving time the shredding service must charge for ten boxes. The net effect is a price per pound for shredding that is several dollars.
But there is a better option for homes that provides shredding at a reasonable price. Ship 'n' Shred works with FedEx for the secure transportation of the boxes. This is an optimal solution for a few boxes because FedEx has married security, reliability and efficiency for critical packages. Boxes are securely shredded for less than a dollar a pound, including the FedEx charges.
Some people might consider just burning the paper. If you do try this make sure you are very careful. Recently a Pacific Beach woman was burning papers in her grill when it got out of control and set fire to her garage and car. The cost for her shredding was estimated at $80,000.