The concern with identity theft and the protection of personal information is always growing.
Companies are collecting more and more detailed information on their customers, clients, and employees—and hackers are finding easier and easier ways to get that information from them.
How much information can someone find out about you? It's a great question.
If you do a quick Google search on your name (or the name and/or email you use on any social media account), what do you find? Try it now.
Your search results probably contained all of your social media accounts, where you've lived and the phone numbers you've used, websites and forums you have participated in, and organizations and companies you've worked for.
This is all available from one simple search.
It's this type of information, officially known as Personally Identifiable Information (PII), that hackers are looking for. That means it should be as secure as you can make it—especially if it pertains to your business.
One breach, whether it's a theft or a loss, can cost your company or organization dearly—or even close the doors for good.
What is PII and How Long Should My Company Hold Onto It?
Personally Identifiable Information is anything that can be used on its own or with other information to identify, contact, or locate a single person, or to identify an individual in context. There are many things that could be added to this list, but the government and most companies identify these basic items as PII:
Full name (if it's not a common name i.e. John Smith)
Home address
Email address (if it's a private email address from an association, club, membership, etc.)
National identification number
Vehicle registration plate number
Driver's license number
Face, fingerprints, or handwriting
Credit card numbers
Digital identity
Date of birth
Birthplace
Genetic information
Telephone number
Login name, screen name, nickname, or handle

(source: Personally Identifiable Information)
Regardless of the size of your company, the industry you operate in has specific legal requirements on the federal, state, and local levels governing the use, storage, and destruction of this kind of information, and the classification and seriousness of a PII breach varies greatly.
There are also specific retention laws that companies need to consider. We have compiled a detailed list here, but be sure to contact your legal counsel before destroying any PII.
Store and Destroy Your Files Securely
Determining what PII you have and how long you need to hold onto it before it needs to be shredded or destroyed is key, but once you know what to protect, you need to choose how to protect it.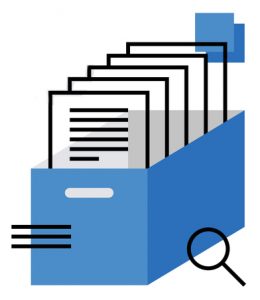 To secure your data you can use:
An onsite, locked filing cabinet which will secure your files to a degree, but risks employee misuse and office break-ins
An off-site storage facility which includes climate controls, security cameras and guards, and 24/7 file access
PII records, along with confidential business information, must be properly destroyed once past their required retention period. Here are a few options that might work well for your business:
Off-site shredding is when a shredding company you choose sends trucks to your location to collect the material you need shredded in locked bins. They transport your files to a secure location and shred them there.
Mobile shredders have industrial shredders mounted in trucks that come to your office or facility and shred all your files, records, and documents while you watch. This is extremely helpful If you are required to witness the shredding of your documents and want to ensure that all your PII documents are destroyed.
Both options will ensure that you have a secure, reliable way to destroy your Personally Identifiable Information for your customers and your employees.
If You Need Secure Disposal of Your PII Documents, Shred Nations Can Help!
Shred Nations specializes in helping you find the shredding contractor that's right for your business regardless of the size of the job. If you're looking for a quote on document shredding services fill out the form to the right or give us a call at (800) 747-3365.
Within minutes of submitting your request, you will receive quotes to help you select the contractor that fits your situation and your office best.