Albany Off-Site Document Shredding Services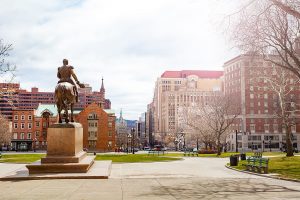 Off-site shredding offers the convenience of having documents picked up directly at your business or residence. This is helpful when dealing with large amounts of documents to be shredded. You can safely dispose of all its documents conveniently and inexpensively with Shred Nation's secure off-site document shredding services in Albany.
Off-site shredding is an economical solution to have thousands of pages shredded without having to transport them yourself. Off-site shredding is a more affordable option, however, you will not get to physically witness the shredding process. By choosing off-site shredding, you can have peace of mind knowing that your confidential information is handled professionally and efficiently. Shred Nations has secure service providers throughout the state of New York that can assist with your next shredding project.
Compliance and Security
Off-site document shredding is one of Shred Nations' most convenient and secure services in your area. We ensure that our partners follow New York state laws and are in compliance with federal regulations such as HIPAA, FACTA, and GLBA. At the end of the service, you receive a certificate of destruction for your records and assurance the papers are destroyed. Get started with document management and data security today!