Offsite and Pickup Shredding Services in Alameda
Offsite shredding in Alameda offers the convenience of having documents picked up right at your curbside rather than having to haul a bunch of boxes to a drop-off shredding location. However, it differs from mobile shredding because your documents are shredded at an offsite shredding facility rather than right at your location.
Offsite shredding is an economical way to have thousands of pages shredded without having to take them anywhere. Offsite shredding is a more affordable option than mobile shredding services. If you have a high volume project, around 15 boxes or more, this service may be the best for your budget.
Let us help you find the best price for your offsite shredding project, no matter what frequency you require from one-time purges to weekly, bi-weekly, and monthly ongoing services. To get started, give us a call at (510) 292-4315 or fill out the form!
Steps in the Offsite Shredding Process in Alameda and Oakland
Offsite shredding ensures your paper is shredded quickly and securely. Here are the steps it takes to find a secure and reliable off site shredding company in Alameda:
To request a free quote, fill out the form or call us at (510) 292-4315. In minutes, we will connect you to several offsite shredding service providers in your area.
Choose the shredding company that best fits your budget and shredding needs. They will give you locked bins to store your documents in.
After you have filled up your bins with all the documents you want shredded, schedule a time for the shredding company to come to your location and pick up the locked bins.
The shredding contractor will transport your locked bins to a secure shredding facility, where you documents will be destroyed and then recycled. Once the job is complete, you will be provided with a certificate of destruction outlining when and where your documents were destroyed.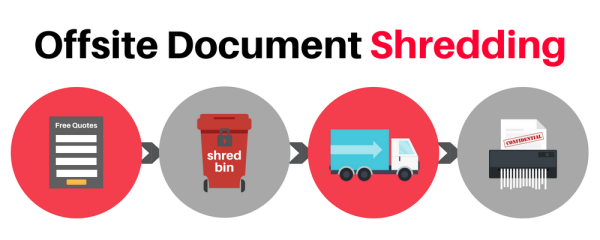 How Secure is Offsite Shredding in Alameda?
When you're looking over the quotes from our contractors, be sure to ask them if they are NAID AAA Certified. This requires that the shredding company adheres to the strict procedural requirements of the NAID AAA certification. Our partners also provide certificates of destruction to ensure that your services are FACTA and HIPAA compliant.
The Costs of Offsite Shredding in Alameda
If you want the most cost effective and convenient option for a high volume shredding project, offsite shredding is the best option for you. Offsite shredding services usually average around $85 for an average sized shredding project, while mobile shredding can be around $100 or more depending on your location.
Compared to drop-off shredding, which typically charges around $1.99/pound in Alameda, offsite shredding can save you a significant amount of money. A typical box of papers usually weights around 30 pounds, so if you were to use a drop off location for only two boxes, it would cost you around $120.
On top of the savings, offsite services transport your files for you, where drop off locations require you to haul your files yourself.
There's also other items that need to be considered that could increase the price of your project, including how close you are to the shredding provider, and any additional services and special requests you might have.
Get Free Quotes on Secure Offsite Shredding in Alameda
Do you think offsite shredding is the best option for your shredding project? Shred Nations Alameda can connect you to multiple secure offsite shredding service providers in your area.
To get started, give us a call at (510) 292-4315 or fill out the form – once we receive your request, shredding contractors will be in touch to complete your shredding project as quickly as possible.
Shred Nations Alameda
909 Marina Village Pkwy
Alameda, CA 94501
(510) 292-4315
alameda@shrednations.com
Our normal operating hours are Monday-Friday from 9:00 AM to 6:00 PM, and Saturday from 10:00 AM to 5:00 PM.
Shred Nations proudly serves these cities throughout the Alameda area:
Oakland | San Francisco | Daly City | San Leandro | Hayward | Walnut Creek | Concord | Richmond | San Rafael | Mill Valley | Vallejo | Antioch | Fremont | Pleasanton | Newark | San Mateo | South San Francisco | Palo Alto | Sunnyvale | Santa Clara | San Jose | Milpitas | Newark | Stockton | Modesto | Fairfield | Napa | Petaluma | Santa Rosa