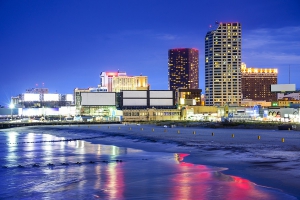 At Shred Nations South Jersey, we specialize in finding you a local professional document destruction service that ensures your confidential information is securely and thoroughly disposed of in order to protect you against fraud and identity theft.
We offer you free quotes from shredding contractors that are able to perform any type of shredding service for your specific needs.
Shredding Services Provided Throughout the Greater South Jersey Area

If you work in a highly confidential industry, it may be required that you physically witness the shredding of your documents. If this is the case, you need an onsite mobile shredding service. Our mobile shredding trucks come directly to your location and shred the documents as you watch.
If you are looking for a convenient, and cost effective shredding solution offsite shredding is the service for you. We come to your location and pick up the documents, they are then taken to one of our offsite shredding locations to be securely shredded.
Don't make the mistake of letting years and years of data fall into the wrong hands—we offer digital destruction services for any and all of your electronic files including CDs, DVDs, X-rays, hard drives, computers, fax machines, and much more!
Shred Nations South Jersey offers all of these services, along with many more. No matter your unique shredding needs, we've got you covered. Give us a call at (856) 452-0349, or fill out the form on the right for your custom free quote on shredding services in the South Jersey area today!
New Jersey Shredding Laws and Regulations
State of New Jersey PL. 1953, C.410—The Destruction of Public Records Act requires the proper disposal of confidential data once it is past its required retention period.
State of New Jersey PL. 2005, C.226—This Identity Theft Prevention Act is an amendment of P.L. 1997, C.172 and requires the implementation of a security system in order to prevent the spread of confidential information, the destruction of such information after its required retention time so that it is no longer obtainable, and the disclosure of any type of security breach to both the necessary authorities as well as the individual(s) whose information may have been unlawfully accessed.
Get Your Customized, No-Obligation Quote on Shredding Services in the South Jersey Area Today!
Here at Shred Nations South Jersey, we know that every business has its own specific needs. Whether you need to see your information being shredded right before your eyes, or just need to get it out of your sight, we are here to help.
Simply fill out the form on the right, or give us a call at (856) 452-0349. Our experts are prepared to provide you with free, personalized shredding quotes within minutes. We will set you up with a contractor that will get the job done as efficiently and securely as possible.
Our normal hours of operation are Monday–Friday from 8:30 AM to 6:00 PM, EST.