Hosting a shred event for your company is actually very beneficial for many different reasons. One of the biggest reasons that companies hold shred events, is to bring awareness to their community on identity theft and how serious it can be. This allows people to shred their documents for free (or for a donation) and it shows people exactly how important destroying your secure documents really is. Another reason why your company should hold a shred event is to market your business. Not only does helping your community destroy their secure documents show that you are a good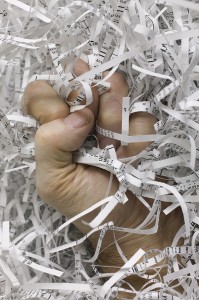 company that cares about their security, but it also allows people to come to your location and meet some of your staff. When people get an opportunity to see this side of a business, it shows them a different side of a business.
The shred event process is actually very simple. You set up a time and a place for a mobile shredding truck to show up to and they can come out at the time that you need them, for as long as you need. Most shred events last around two to four hours. Once you figure out when and where you are going to hold your shred event, you can then start letting either your clients or your community know when to come out to get their documents destroyed! Everyone gets to see their paperwork get shredded so that they feel comfortable, and you have reached out to your community.