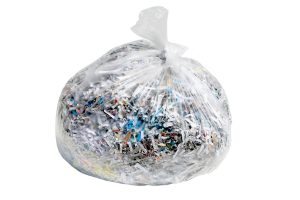 Choosing a company to shred your documents shouldn't be a blind leap of faith. There's a lot at risk when you think about what's in those files. There are several important things to consider when you need to shred critical company records or any files that might contain personally identifiable information.
The costs of a data breach from improper shredding or disposal can cost you customers, partners, profits, and even your business.
If you search for a shredding company in your area, you'll see that they offer secure shredding services and proof that your documents were disposed of completely and securely. In fact, a company that's NAID AAA Certified will provide you with a certificate of destruction to confirm it.
What is a Certificate of Destruction?
A certificate of destruction is one of the ways to help protect your company in case of legal action or an audit. When you hire a shredding service for mobile shredding or off-site shredding, they should detail every step of the process, and be able to document it. It proves that the documents or electronics that you want to be shredded are securely destroyed based on your company's records retention program, or by law.
Chain of custody is a crucial part of ensuring your documents are shredded securely. The details in the certificate of destruction provide proof of who had your documents at every step of the process.
To ensure that you are protected for all documents you destroy, look for a company that provides a very detailed certificate of destruction. Here's an example from Northfolk Disposal in Waterford, Ontario that encompasses a thorough certificate of destruction:
A unique, serialized transaction number that you can use in an audit trail
Transfer of Custody that establishes the client's turning over of materials for destruction at a specific location and date.
A reference to the terms and conditions, or the policies and procedures of the client and company for the processing of materials
Acceptance of fiduciary responsibility whereby the company's agent accepts responsibility and agrees that all materials accepted are considered confidential and are to be treated as such (can refer to the terms and conditions of a service agreement)
Date the information was collected and the date the information ceased to exist.
The location of the destruction of the documents
The witness to the destruction

The most important thing to do is ask the company you're hiring about their certificate of destruction. Make sure that what they provide meets the requirements that you need for your company or your industry.

Legal Implications and Procedures for Shredding Documents

Depending on your industry, there are several different steps and certain procedures that you need to take to ensure that your company is protected. We have provided you with two great resources to learn more about the some of these requirements and the implications of not being in compliance. As always, be sure to check with your legal representation about different retention times and legal requirements for your business.

Information Requirements Clearinghouse has a detailed explanation of the legal requirements and obligations for the destruction of documents for a records retention program, after scanning or microfilming documents, and more. Click here to learn more about the legal implications based on the detailed information in this article.

If you're in the health industry and are looking for more details on the requirements for health information and record systems, you can check out the link to verify the different destruction logs and witnesses that are recommended from the American Health Information Management Association.

Get Free, No-Hassle Quotes Today!

Shred Nations specializes in helping you find the shredding contractor that that's right for your businesses regardless of the size of the job. If you're looking for a quote on document shredding services, please fill out the form to the right, or give us a call at (800) 747-3365.

Within minutes of receiving your request, you will receive quotes from shredding contractors in your area so that you can select the company that fits your project or your office best.