Every business collects and maintains private information on their employees and customers.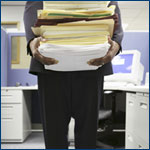 These documents must be shredded and not left in the trash. This is legally required by FACTA and HIPAA on a federal level but also on a local and state level. Some Attorney Generals have discovered that suing businesses is a great way to increase state revenue. There is also a moral obligation to protect the important people to your business from identity theft that can arise from documents carelessly left in the trash.
And don't think you will get caught? Think again. There are many people who regularly go through trash including people looking for boxes, disgruntled employees, "freegans," and groups that might have a political agenda. A business that has personal information in the trash makes for easy pickings from the local "action news team."
The need to shred is clear but the best way to do it isn't. Many businesses buy one or several shredders but discover the high cost and low security of shredding in-house makes this a poor option. Maintenance costs, replacement costs and employee costs quickly overcome the costs of a commercial paper shredding service.
There are two basic types of business shredding services:
Recurring service
We will place locked containers in your office and on a weekly or monthly basis come by and shred everything inside.
Purge service
For yearly or one time clean outs. We come and shred all your expired documents. Don't worry, our shredder can do mountains of shredding in minutes.