Seattle Off-Site Shredding Services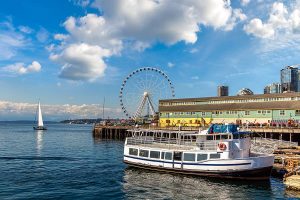 Shred Nations Seattle's off-site document shredding is an easy way to shred a large number of documents.  Off-site document shredding is similar to mobile shredding—we pick up your documents and shred them off-site instead of shredding them onsite while you watch. Suitable and ideal for any sized projects, but the more papers you have tend to bring down the overall cost.
Shred Nations Seattle offers you several options to select from multiple companies to help you find the best price for your off-site paper shredding project.  We can also help you find ongoing services if you require them, including one-time purges to weekly, bi-weekly, monthly, quarterly or even annually ongoing service.
What Is the Off-Site Shredding Process?
Here are the four steps that our off-site shredding companies in Seattle take to make sure your documents are shredded appropriately and to your requirements.
Start by requesting a free shredding quote by contacting us at (206) 535-2947, or by filling out the form. We'll put together multiple quotes from reliable offsite shredding companies in your area in Seattle.
You select the company that works for your project and location, and they will send you a number of secure shredding bins to use at your home or office.
Fill up the locked bins, and when you're ready to have them shredded, the shredding company will come to your office and pick up the bins. Then, we take them to a secure location to be shredded.
Once your documents are relocated to the shredding facility, we shred them with thousands of other documents and send you a certificate of destruction explaining when and where the documents were shredded.
How Much Does Off-Site Shredding Cost?
The more boxes you have, the more affordable offsite shredding services are compared to drop-off shredding or mobile shredding. On average, a mobile shredding services costs around $130-$150 for a project of up to 120 lbs. Pricing does depend on location, project size, and other factors.
Drop off locations usually charge about $1/pound, so a high-volume job can cost more than you expect, and you still have to transport the boxes to the location to be shredded. If you have more than 90 lbs, using a shredding service will be the best option.
Get Free Quotes on Off-Site Shredding Today!
Large-volume shredding projects our just part of Shred Nation Seattle's expertise.  If you have boxes upon boxes of documents to be shredded, we can help you find an offsite shredding company at a competitive price anywhere in Seattle.  We'll have multiple quotes from local providers to you in minutes!
To get started, give us a call at (206) 535-2947 , or fill out the form.  Once we receive your request, secure shredding contractors in Seattle will be in contact with you to help complete your shredding project as quickly as possible.
Shred Nations Seattle Location
Shred Nations Seattle
117 E Louisa St Seattle, WA 98102
(206) 535-2947
seattle@shrednations.com
Our normal operating hours are Monday–Friday from 9:00 AM to 6:00 PM and Saturday from 10:00 AM to 3:00 PM.
Shred Nations proudly serves these cities in the Seattle area:
Auburn | Bainbridge Island | Beaux Arts Village | Bellevue | Des Moines | Everett | Kent | Lake Forest Park | Maple Valley | Mercer Island | Mountlake Terrace | Olympia | Redmond | Renton | Silverdale | Tacoma | Woodway