Mobile Shredding Services in San Rafael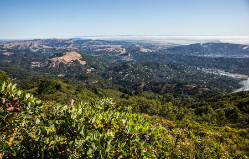 If you have too many papers to shred yourself but are worried about handing your important documents over to a third party shredding company, mobile shredding offers a perfect solution. The service lets you watch the entire shredding process without doing any of the work.
Investing in supplies and taking the time to shred your own materials can be a big, unnecessarily difficult project. With businesses under a lot of pressure to keep company, employee, and customer information safe, there is no better solution than shredding expired information before tossing it.
Let us help you find a mobile shredding service provider near you who will help complete your project safely and affordably. Call us at (415) 968-3017 to get started.
How San Rafael Mobile Shredding Works
The most convenient and secure shredding service available in San Rafael, mobile shredding is straightforward process. Here's how it works:
Begin your project by getting free quotes on local shredding services. Call us today at (415) 968-3017 or fill out the form and we will get you several FREE quotes on services from reputable local providers.
Select the shredding service option that best meets the needs of your project and budget. Your new provider will send you locking shredding bins to collect your materials in.
When your collection bins are full, contact your provider and they will stop by your location in a truck equipped with a shredder. They will shred your materials for you while you watch to ensure it's done right.
When the process is complete, your shredder will provide you with a certificate of destruction to verify the process was done correctly, and they will drive off with the shredded bits to take them to a recycler.
San Rafael Onsite Shredding Security
Security is the top priority when shredding personal documents, and we understand the hesitation you may experience when handing your private information over to a third-party company.
Mobile shredding is completely secure and abides by all federal and California state laws regarding information destruction, including HIPAA and FACTA.
For added reassurance, mobile shredding lets you watch the entire process, and you can even request a certificate of destruction noting the when, where, and how of the shredding process.
How Much Does Mobile Shredding Cost in San Rafael?
Mobile shredding services cost on average, $115, but that price can vary based on where you live. If you only have a small number of papers to shred (anything less than 3 boxes), drop off services may be your best bet, charging around $2 per pound.
The more papers you have to shred the more cost-effective mobile shredding becomes.
If you think your project could be serviced by both drop off shredding and mobile services, the decision will come down to convenience, and whether or not you want to watch as the shredding is performed.
Get Free Quotes on Secure Mobile Shredding Services throughout Marin County
If you need help from an expert with the proper tools and knowledge to carry out your shredding project, Shred Nations San Rafael will help you find the best and most affordable shredding service provider near you.
Call us today at (415) 968-3017 or fill out the form for free quotes. We will connect you to our extensive network of Northern California based shredders who are all qualified to handle any sized job.
No matter where you are, or how often you need services, our partners can help. You can schedule your services for:
A onetime purge
Regularly recurring services
Drop off shredding for a smaller sized project
Shred Nations San Rafael Location
Shred Nations San Rafael
2100 4th St
San Rafael, CA 94901
(415) 968-3017
Email: san-rafael@shrenations.com
Our hours of operation are Monday-Friday 8:30 AM to 6:30 PM and Saturday 9:00 AM to 5:00 PM
Shred Nations proudly services these cities near San Rafael, CA:
Alameda | Corte Madera | El Cerrito | Fairfax | Fremont | Fresno | Gallinas | Hayward | Kentfield | Larkspur | Los Ranchitos | Mill Valley | Milpitas | Mission Viejo | Modesto | Pleasanton | Ross | San Francisco | San Jose | San Quentin | Santa Clara | Santa Rosa | South San Francisco | Stockton