Offsite Shredding in the Portland Metro Area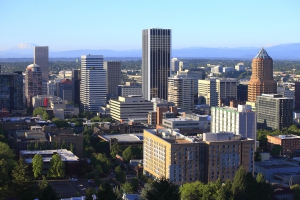 Shred Nations Portland offers secure offsite shredding that will send a truck to your location to pick up your documents and shred them at an offsite facility.
Because it's so cost-effective, offsite shredding is a great option for homes and businesses who regularly need a large volume of documents to be shredding. This process is best when you have large amounts of paperwork—generally 15 boxes or more.
Shred Nations Portland can send you several free quotes on local shredders in the Portland area. When companies compete for your business, you're guaranteed to get competitive pricing. If you know you'll need service on a regular basis, your service provider can even give you locked containers free of charge so that you can store your documents inside them until your scheduled service.
A Look at How the Offsite Shredding Process Works
Here's a look at how the offsite shredding process works from start to finish:
To get your project started, first call us at (503) 303-8923 or fill out the form for free quotes on nearby shredding services in Oregon. We will quickly get you in contact with the available service provider.
After you've selected and scheduled the best service option for your needs, your documents will be picked up by trained security personnel and safely transported to a secure shredding plant. At the plant, your materials are shredded and co-mingled, making it impossible to recreate your original files.
The materials are promptly taken to an Oregon recycling facility where they are compacted, pulped, and recycled into new paper.
You are sent a Certificate of Destruction detailing the time, place, amount of shredded files, and a list of witness signatures.
Is Offsite Shredding in Portland Secure?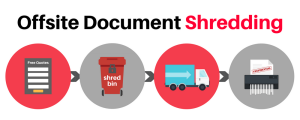 Shred Nations Portland partners with secure, local shredding companies, but to be certain your information is being properly destroyed, we encourage you to confirm that your shredding company is NAID AAA Certified. NAID standards are high, and companies that comply with them will without a doubt keep your information safe.
How Much Does Offsite Shredding cost in Portland?
If you have more than a dozen boxes of old files to shred, then offsite shredding is the most cost-effective choice. Offsite shredding services average at about $85 in Portland, while mobile shredding services that shred at your location typically cost about $100.
Drop off services are also available and cost about $1 per pound in Portland. We only recommend this option if you have just a few boxes to shred, as you will be responsible for packing and transporting your paperwork. Other factors that influence the price of your project include your proximity to the shredding company's location and any additional services you might require.
Get Free Quotes on Secure Offsite Shredding in Portland Today!
If you need to shred a large amount of paperwork in the Portland metro area, Shred Nations Portland is here to help. We offer offsite services for businesses and individuals, and we will quickly get you connected to local contractors.
Get started by giving us a call at (503) 303-8923 or fill out the form. Our shredding contractors are competing for your business, and they will work hard to offer you the best, most efficient services.
Shred Nations Portland Location
Shred Nations Portland
11918 SE Division St
Portland, OR 97266
(503) 303-8923
Email: portland@shrednations.com
Our normal business hours are Monday through Friday from 9:00 AM to 6:00 PM and Saturday from 11:00 AM to 3:00 PM.
Shred Nations Portland is proud to serve Portland and the surrounding areas:
Beaverton | Boise | Hillsboro | Irvington | Kenton | Metzger | Oak Grove | Pearl District | Portsmouth | Richmond | Rockwood | Salem | Tigard | Tualatin | Vancouver | Woodstock