Shred Nations Norfolk Location
Secure Document Shredding Services in Norfolk, VA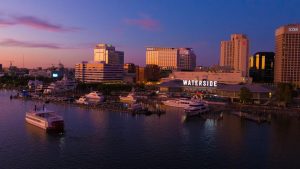 Shredding has been valued as a safe disposal method since the early 1900s. In 1935, the first paper shredder was manufactured. The machine used a hand crank to shred one piece of paper at a time. 
Luckily, technology has pushed shredding technology forward by leaps and bounds. Today's shredding equipment can shred thousands of pounds of paper per hour and is available in a variety of methods and security levels. 
Shred Nations Norfolk makes it easy to fit shredding into your regular routine. We have several service options to make shredding accessible and affordable to busy professionals. Whether you require high-volume shredding, drop off at your convenience, or a service that comes to you; we have solutions to match your needs. 
We are excited to work with the residents and businesses in Norfolk by providing high-quality shredding and hard drive destruction services. Contact us by calling (757) 802-7459 or filling out the form to receive more information on our services and connect with providers near you. 
Document Destruction Services Around Norfolk
Mobile shredding will send a truck to your location for onsite shredding. Our mobile shred trucks are equipped with industrial-grade shredders that can complete your project quickly and effectively. Mobile shredding eliminates the need to transport your own documents and guarantees secure disposal by allowing you to witness the destruction of your documents.
Off site shredding is an affordable option for businesses and individuals with high-volume shredding needs. We will come to your location to pick up your documents and safely transport them to a local facility for destruction.
Hard drive destruction is a shredding service for electronics and media. It destroys data that has been saved to your devices to eliminate the chance of unauthorized recovery of your information. We physically break down your devices, remove the hard drive, and shred it into small pieces. Your data will be destroyed and protected with hard drive destruction.
Relevant Laws and Regulations in Norfolk and Virginia
Va. Code § 42.1-85: The program requires the Library of Virginia to administer a records management program for public records and mandates that any agency with public records must cooperate with the program. 
Virginia Public Records Act: This act establishes public record policies for public officials and businesses to manage and preserve public records in a uniform way throughout the Virginia Commonwealth. 
Va. Code § 2.2-2009 (F): This code requires the development of policies, standards, and guidelines for measuring security risks and requirements to protect government electronic information from unauthorized users. It also calls for compliance with federal laws concerning privacy. 
Health Insurance Portability and Accessibility Act (HIPAA):HIPAA applies to healthcare and related fields regarding record retention and destruction policies.
The Gramm-Leach-Bliley Act (GLBA): GLBA clarifies standards for the financial industry regarding the management and destruction of client information. 
The Fair and Accurate Credit Transaction Act (FACTA): FACTA protects consumer information by requiring businesses to protect and dispose of personal data. 
Get Free, No-Obligation Quotes on Document Shredding Services in the Norfolk Area
Shred Nations Norfolk would love to assist you with all of your information protection needs. 
Give us a call at (757) 802-7459 or fill out the form to connect with Norfolk-based contractors within minutes. We are happy to answer your questions and suggest services that would benefit your home or business. 
Shred Nations proudly serves these cities throughout the Norfolk area:
Chesapeake | Chester | Colonial Heights | Elizabeth City | Hampton | Highland Springs | Hopewell | Kill Devil Hills | Newport News | Petersburg | Poquoson | Portsmouth | Suffolk | Virginia Beach | Williamsburg