Long Beach Mobile Shredding Service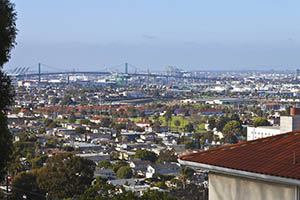 Hauling dozens of boxes of documents down the 405 in Long Beach to have them shredded might be easy for a person with a 2-ton truck, but there are other options to have your documents destroyed without having to deal with the hassle and time of gathering and hauling all those documents.
A mobile shredding service will come to you and will shred all your documents right in front of you.
You don't have to deal with traffic, and we service all neighborhoods and businesses throughout Long Beach, including Belmont Shore, Downtown Long Beach, East Anaheim, and more!
When you have any type of documents (checks, bonds, coupons, etc.) that can be exchanged for cash, mobile shredding will ensure that those items don't get into the wrong hands.
Mobile shredding prevents identity theft by ensuring that no financial or personal information is accidentally thrown out, misplaced, or stolen.
Steps in the Mobile Shredding Process in Long Beach
Mobile shredding ensures your paper is shredded quickly. Here are the steps you need to take to have a local mobile shredding company to help ensure your documents are securely destroyed.
Submit a quote request to Shred Nations by filling out the form to the right, or by giving us a call at (562) 275-8111. Within a few minutes, a mobile shredding company located in Long Beach will contact you to provide a free quote for your project.
A shredding company located somewhere close to you in Long Beach will provide locked bins for your location.
You fill up the locked bins with documents that need to be shredded.
Once your bins are full, a mobile shredding truck comes to your location and shreds everything in the bins.
You can watch the entire shredding process and ensure your documents are destroyed. We will never come in physical or visual contact with your documents.
Shred Nations Long Beach will provide you with multiple pricing options to ensure you're getting the best price for your project. We can come and shred your documents as often as you want, including:
One time Purges
Weekly, Bi-Weekly, and Monthly service
Drop Off Shredding Service if you have a few boxes you need to shred.
Mobile Shredding in Long Beach is Secure
Make sure that your personal and/or company information never gets used against you. Once your on-site shredding project is complete, the shredding company will provide you with a certificate of destruction to ensure that the project complies with FACTA and HIPAA laws.
Be sure to ask if the mobile shredding company you select is NAID AAA Certified. This ensures that the company follows the strict requirements this certification demands to ensure that your information is never at risk.
Approximate Cost of Mobile Shredding in Long Beach
You should request a mobile shredder if you have enough documents to shred to make it affordable. If you drop off your documents to be shredded, you're usually going to be charged about $1 per pound. The more boxes that need to be shredded, the more cost-effective a mobile shredding service will be.
You also have to consider your location. If you're not located next to one of our shredding providers in Long Beach or near a Los Angeles County drop off location, it's probably going to be more cost effective to send a shredding truck to you.
Get Free Quotes on Mobile Shredding Services in Long Beach
If you are looking for shredding services in Los Angeles County, give Shred Nations Long Beach a call at (562) 275-8111, or fill out the form to the right for a FREE quote! We can connect you to trustworthy service providers all throughout California for a mobile shredding service that fits your needs best.
Within minutes of receiving your request, we'll contact you to provide free quotes from the most secure and reliable mobile shredding contractors in Long Beach to help schedule and complete your shredding project.
Shred Nations Long Beach Location
Shred Nations Long Beach
2201 N Lakewood Blvd
Long Beach, CA 90815
(562) 275-8111 
Email: long-beach@shrednations.com
Our normal business hours are Monday – Friday from 9:00 AM to 7:00 PM and Saturday 9:00 AM to 5:00 PM.
Shred Nations proudly serves these cities throughout Long Beach and Los Angeles County:
Anaheim | Azusa | Carson | Costa Mesa | Encino | Fontana | Huntington Beach | Gaspur | Granada Hills | Irvine | Willowville | Signal Hill | Belmont Shore | Lake Forest | Long Beach | Los Alamitos | Los Angeles | Naples | Newport Beach | Torrance | Thousand Oaks | Watson | California Heights | West Covina | Wilmington | Watson Junction | Bangle | Pasadena | Riverside | San Marino | Santa Clarita | Santa Monica | Seal Beach Trailer Park | Bixby Knolls | Dominguez
Check out these links for more information on mobile shredding
Choosing between Drop off Shredding and Mobile Shredding There's specific advantages to using a drop off shredding location or using a mobile shredding service. Which one works best for your project?
Do You Need Mobile Shredding at your Residence? Mobile shredding isn't just for businesses. Depending on how much paperwork you need to have shredded, you may actually save money by having someone come out to you.
Mobile Shredding vs Off Site Shredding Learn about the differences between mobile shredding and off-site shredding, and the ways each service can help your business.