Brooklyn Mobile Shredding Services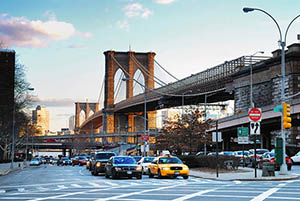 Hauling 15 boxes of documents to be shredded down Ocean Parkway to a strip mall in Brooklyn might seem like an inexpensive way to ensure your documents are destroyed.
By hiring a mobile shredding service, you can ensure that your documents are shredded securely right in front of you, and you can avoid the traffic in Brooklyn and the hassle of taking your papers to a drop off shredder.
Our Brooklyn shredding partners come to your business or your home and shred your documents while you watch. We service all neighborhoods throughout Brooklyn, including businesses from Long Island to Queens. If you have a large volume of documents to shred, we might have a better option. Shred Nations Brooklyn offers offsite shredding where we pick up the paper files that you want shredded and take them to one of our secure facilities in Kings County instead of shredding them at your business.
If you have coupons, unused checks, stock certificates, or bond certificates, mobile shredding is the best way to shred them since they should be destroyed while you watch. Mobile shredding prevents identity theft by ensuring that no financial or personal information is accidentally thrown out or misplaced.
Steps in the Mobile Shredding Process in Brooklyn
Mobile shredding ensures your paper is shredded quickly. These are the main steps that our local Brooklyn shredding company takes when they come to your door.
Submit a quote request to Shred Nations Brooklyn by filling out the form, or by giving us a call at (718) 303-0870. Within a few minutes, a mobile shredding company located in Brooklyn will contact you to provide a free quote for your project.
Once you select a shredding provider that meets your project's needs, they will provide locked bins and send them to your location, no matter where you are in Brooklyn
Your employees fill the locked bins with documents that you need shredded.
Once your bins are full, a mobile shredding truck comes to your Brooklyn-based business and shreds everything in the bins.
One huge advantage of mobile shredding is that you can watch the entire shredding process. Brooklyn Shredding Companies will never come in physical or visual contact with your documents.
How Secure is Brooklyn Mobile Shredding?
It's critical to guarantee that your personal or company information will never be used against you. After we complete your on-site shredding project anywhere in Brooklyn, you'll get a certificate of destruction to ensure that you comply with FACTA and HIPAA laws and ensure proper chain of custody procedures.
Be sure to check if the mobile shredding company you select is NAID AAA Certified to ensure that the company follows the strict requirements this certification demands to ensure that your information is never at risk.
Approximate Cost of Mobile Shredding Services in Brooklyn
You can request a mobile shredder for your Brooklyn-based business or residence if you have enough documents to shred to make it cost effective. Drop off shredding services usually charge about $1 per pound of documents. If one box full of paper weighs up to 30 pounds, The more boxes that need to be shredded, the more cost-effective a mobile shredding service will be.
You also have to consider where you're located. If you on the other side of Brooklyn from your local shredder, it's most likely going to be cheaper to send a shredding truck to you than if you're located on Long Island.
Get Free Quotes on Brooklyn Mobile Shredding
Shred Nations Brooklyn offers secure mobile document shredding services in Brooklyn and surrounding areas. Do you need shredding service in New York? Give us a call at (718) 303-0870 or fill out the form.
We will contact you within minutes of receiving your request to provide you with free quotes from the reliable Brooklyn mobile shredding contractors to get your shredding project started. We will answer any questions you may have about the shredding process, and we do our best to contact you as quickly as possible.
Shred Nations Brooklyn Location
Shred Nations Brooklyn
41 Schermerhorn St
Brooklyn, NY 11201
(718) 303-0870
brooklyn@shrednations.com
Our normal business hours are Monday—Thursday from 8:30 AM to 6:30 PM, Friday from 8:30 AM to 5:00 PM, and Sunday from 11:00 AM to 3:00 PM.
Shred Nations also proudly offers our shredding services to the following cities and boroughs throughout Brooklyn and greater New York areas:
Albany | Bronx | Manhattan | Queens | Dutchess | Westchester | Mt Vernon | Nanuet | New York City | New Milford | North Babylon | Syracuse | Union City | West Harrison | West Point | Westwood | White Plains

Check out these links for more information on mobile shredding:
Protect Against Low-Tech Hacking Learn about how hackers get your information by dumpster diving and locating sensitive documents that were just thrown away.
Pricing for Mobile vs. Drop-Off Shipping Get more information on the differences and pricing of having a mobile shredder come to your door vs. dropping of your documents at a shredding company.
10 Myths About Document Shredding There's a lot of myths out there about shredding companies, their benefits, and their drawbacks. We clear up some of those assumptions in this article.